Reading takes Archaeologist of the Year crown once again
28 February 2018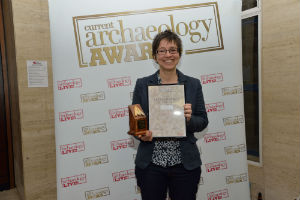 A University of Reading archaeologist, whose pioneering research has revealed how diverse the Roman Empire was, has been named Archaeologist of the Year 2018.
Dr Hella Eckardt was announced as the winner of the annual award, run by Current Archaeology magazine, following a public vote.
Dr Eckardt's win completes a hat trick of Archaeologist of the Year awards for the University's Department of Archaeology, after the prize was won by Professor Michael Fulford in 2015 and Professor Roberta Gilchrist in 2016.
As Associate Professor of Roman Archaeology at the University of Reading, Dr Eckardt has pioneered the large-scale use of isotope analysis and ancestry assessment to study late Roman skeletons. Together with Reading colleagues, she has demonstrated that towns such as York and Winchester were home to many immigrants, and that women and children were amongst those who moved across the Empire.
"It is wonderful to see that my work on migration in the Roman period has some strong resonances today" - Dr Hella Eckardt, University of Reading
The information uncovered has led to the creation of teaching resources for primary and secondary schools, to help children and teachers reflect on the . Her research also looks at the material culture of the north-western parts of the Empire, and what the use of certain Roman objects tells us about social and cultural identities there. Most recently, Dr Eckardt has worked on objects associated with writing in the Roman world, exploring the significance of literacy in the Roman provinces.
Dr Eckardt said: "I am very honoured to have been voted Archaeologist of the Year 2018 and would like to thank all the Current Archaeology readers and members of the wider archaeological community who voted for me. It is wonderful to see that my work on migration in the Roman period has some strong resonances today, and I am also proud to represent the many archaeologists who work with artefacts.
The Archaeologist of the Year award was presented to Dr Eckardt at the CA Live! Conference in London on 23 February.
Also nominated from Reading in this year's awards were Dr Jim Leary, also in the Archaeologist of the Year category, and The Roman Rural Settlement Project led by Professor Fulford, in the Research Project of the Year category.
Dr Eckardt added: "I would very much like to pay tribute to my co-nominees Timothy Darvill and Jim Leary for their fantastic work on the Neolithic period. Special thanks go to the staff and students at the Department of Archaeology at the University of Reading - it is a huge honour to be the third winner of this prestigious award from the same institution."