Snow, containing a sub-Saharan virus, and gender bias in Mental Health: Reading in the News - 28 Feb
28 February 2018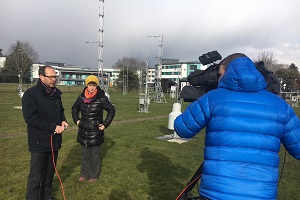 Snow: Further coverage on Sky News of the science behind the current wintery weather being experienced. In a series of segments filmed at the Meteorology department, their correspondent explained the current weather systems, and spoke to Professor Ellie Highwood (Met). Prof Highwood's comments were also reported on LBC, Heart Berkshire and The Breeze. In addition, the Express have reported on comments made by Dr Laura Wilcox.
Lassa Fever: Prof Ian Jones (Bio Sciences) is quoted in a Telegraph article about an outbreak of Lassa Fever in Nigeria, after a team from the UK has travelled to Nigeria to help contain the virus. The article is reproduced in AllAfrica.
Gender bias in mental health: An article in Metro looks at how underlying assumptions about gender and mental health is leading to misappropriation of behaviour in classrooms. Prof Shirley Reynolds (PCLS) is quoted.
Neuroscience and Business Schools: Prof Patricia Riddell (Henley) is quoted in an article in the Financial Times (£) looking at how neuroscience is shaping the way business schools are teaching. The article notes that Henley Business School has used UoR Psychology lecturers to help teach MA Leadership course content.
Other coverage
Dr Mark Dallas (Pharmacy) spoke to BBC Berkshire (approx. 30 mins in) about a public lecture about research into microglia, a brain glue that might help with early diagnosis of dementia.
Manchester Evening News report on a tech startup team, including Dr Matthew Ryan who graduated from the University of Reading.
Further coverage of research suggesting that wine could improve oral health, including comments by Dr Gunter Kuhnle (Food), in NutraIngredients.
<!--[if !supportLists]-->