The Stranger on the Bridge visits Reading campus for #LetsTalk week
28 February 2018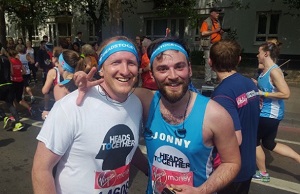 Mental Health advocates Jonny Benhamin MBE and Neil Laybourn visited the University of Reading to share their inspiring story and encourage people to be open about their wellbeing.
In front of around 200 staff and students in the Students Union, Jonny and Neil shared how they met on Waterloo Bridge in 2008, and in doing so, Neil saved Jonny from committing suicide; and years later became part of one of the most talked about stories in the news as the #FindMike appeal was launched as Jonny looked to find and reconnect with Neil.
Watch Jonny and Neil's inspiring story again at:
https://www.facebook.com/RUSUnews/videos/10156253407474777/
The event was part of #LetsTalk week organised by the Reading University Students Union and Wellbeing and Counselling Service with the aim to help staff and students understand how to "stress less, to promote positive wellbeing, and to start conversations about mental health".
Find out more about Wellbeing and Counselling services atthe University of Reading at:
https://student.reading.ac.uk/essentials/_support-and-wellbeing/counselling-and-wellbeing.aspx