Festive news round-up and a win for our Christmas University Challenge team – Reading in the news Weds 3 Jan
03 January 2018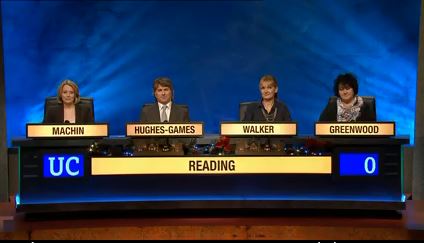 Christmas University Challenge: A team of Reading alumni took part in the University Challenge Christmas special, which aired on BBC 2 last night. They won this round and are now through to the semi-final.
New sugar guidelines for children: Following the publication of new guidelines on the amount of sugar children should consume, Dr Gunter Kuhnle (Food) spoke to BBC Radio Berkshire (approx. 40 mins in) about how parents should interpret these guidelines.
UN funding cut by USA: Al Jazeera examined the USA's £285m funding cut to the UN - panellists include Prof Rosa Freedman (Law). Prof Freedman appeared again on Al Jazeera and also on Bloomberg India.
US economy: Prof Rajneesh Narula (Henley Business School) was on BBC World Business Report discussing the new US tax reforms coming into effect from this month and the impact this could have on the wider US economy.
Tsunami wiped out land that once connected Britain to Europe: Scientists believe some 8,000 years ago a huge tsunami wiped out the land, known as 'Doggerland', that formerly connected Britain to mainland Europe. Prof Martin Bell (Archaeology) explains more in this article in the The Express.
World's oldest words: Prof Mark Pagel (Ecology and Evolutionary Biology) has published a paper identifying the numbers one to five as among the oldest and most enduring words. The study is covered by getreading and Study International. Read our news story here.
Greek financial crisis: Dr Ioannis Oikonomou (Henley Business School) comments on the EU's mistakes in helping Greece recover from financial crisis but says the country's economy is showing signs of recovery. His comments are featured in The Express, The Financial Tribune, The National Herald and Brief Report.
Royal Institution Christmas Lecture: Professor Slawomir Nasuto, Dr Ioannis Zoulias (both Biomedical Engineering) and PhD student Maitreyee Wairagkar were featured in one of the Royal Institution's Christmas Lectures which aired on BBC 4 (approx. 53 mins in) on 27th Dec. Their presentation focused on research from the University of Reading in brain-computer interfaces and functional electrical stimulation and how this can help people with spinal injuries. The lecture was also covered by News Shopper and This Is Local London.
Farming Today archive: BBC Radio 4 (approx. 20 mins in) spoke to Guy Baxter (Museum of English Rural Life) about the Farming Today archive held within the Museum and its importance to understanding the history of rural life. BBC Radio Devon also ran the interview.
New Year's Honours: Visiting professor Dr Helen Roy (Biological Sciences) was made an MBE in this year's New Year's Honours 'for services to Biodiversity Research, Science Communication and Citizen Science'. The Witney Gazette, The Oxford Times and other local news outlets cover the story.
Flooding: A More4 programme on flooding features Rob Thompson (Met), explaining how the University's Atmospheric Observatory measures rainfall and how this proves we are having more rain than ever before.
Bright moon: Prof Chris Scott (Met) explains to BBC Radio Berkshire (approx. 2 hours 40 mins in) why the moon has been so bright the last few days.
Sun's influence on Uranus: Scientists from Reading and Oxford universities have found that changes in solar activity influence the colour and formation of clouds around the second furthest planet from the sun. Prof Giles Harrison (Met) co-led the study. International Business Times and Phys.org cover the news.
Boxing Day sales: Dr Steve Musson (Geography) spoke to BBC Radio Berkshire (approx. 10 mins in) about anticipated sales on Boxing Day and why retailers are choosing to hold so many sales throughout the year. Dr Musson was also featured on BBC South in the run up to Christmas discussing the success of Bracknell's new shopping centre The Lexicon.
UoR home to some of the world's leading research scientists: Published in late December, the Clarivate Highly Cited Researchers table 2017 has included six Reading scientists among its list of more than 3,300 most cited scientists in the world. Local radio stations BBC Radio Berkshire and The Breeze included on its news bulletins. Read our news story here.
'reading in Reading': The University is part of a collaborative new project, part of Reading International, called 'reading in Reading'. It is a series of events and exhibitions, involving artists, members of the public, and key institutions around the town, including Reading Central Library. The first activity involved a group of teenagers from Reading's Bezerk Productions, who recorded a jingle, in collaboration with artist Cally Spooner, at BBC Radio Berkshire's studios on 22 December. Cally Spooner spoke to BBC Radio Berkshire about the project.
Drinking champagne is good for you: In the lead up to Christmas, The Evening Standard ran a story about the health benefits of drinking champagne, which mentions the Reading study which found that three glasses of champagne a week can improve your memory. The article was syndicated on MSN.com and Yahoo News UK. A separate article on the health benefits of alcohol on Health and Fitness Cheat Sheet also mentions the same study. Dutch, Danish and New Zealand websites also featured stories of a similar nature, including Esquire, Costume.dk, Marie Claire.nl and Bravo.
The seductive power of curiosity: The American Psychological Association features an in-depth article on the University's Motivation Science Lab, led by Dr Kou Murayama, and its research into what people will do to satisfy their curiosity.
Other coverage:
The Guardian has written an obituary for historian Mark Whittow, mentioning his time spent teaching at Reading. This is Oxfordshire also covers the news of his death.
Further reporting of research into the positive effect of whey protein consumption on heart disease is reported in Knowridge and USA Science News.
A recent study, which Reading was involved in, has found that parents who actively encourage children towards safe risk-taking are significantly reducing the likelihood that their kids will develop childhood anxiety disorders. The study is featured on parenting blog Babble.
The Star Online features a story on how an MBA can boost your career, including comment from Dr Shelen Ho (University of Reading Malaysia).
Henley Business School Malaysia will be offering free business workshops to the unemployed and underprivileged school leavers as well as young adults starting this month, according to The Star Online.
A comedy Jeremy Corbyn music video released on New Year's Day is covered by International Business Times, including a mention of a reactionary tweet by the University's Conservative Society.
Comments from Matt White (Director of Catering) are featured in this Stir it Up Magazine article on healthy menu options.
BBC Radio Berkshire spoke to Ann Latto, who received her fifth University of Reading degree last year at the age of 85.
Further coverage of news that the University of Reading has joined a pilot to make visa applications for international masters students being run by the Home Office; includes Study Travel Magazine.
Dr Ruth Salter (History) spoke to BBC Radio Berkshire about the history of chocolate - how and why we started consuming it and how we have moved to the present day where many people eat chocolate on a daily basis.
Coverage of a study by Dr Christian Pfrang (Chemistry) from the University of Reading showing that fried food can help mitigate climate change is featured on Environmental Technology and Caribbean Broadcasting Corporation.
South East Farmer featured a story on how farmers are helping to reduce flood risk - Dr Joanna Clark (Geography & Environmental Science) is leading a project to measure what impact farmers' land management methods is having on flood risk.
Xpose.ie and Furthermore have covered research conducted by Emeritus Professor Philip Lowry suggesting that morning sickness is a sign of healthy pregnancy.
The Met Office blogged about new research from Reading that has found a more accurate way to forecast summer seasonal weather. The study was also picked up by Hungarian site Napi.
Prof Paul Williams (Met) spoke to New Orleans radio station WWNO about how much weather has featured in pop songs over the years.
Reading researchers have been involved with a collaborative project which has found that human influences have reduced the likelihood of another record-breaking cold event in China. The story is covered by multiple science news sites, including: Phys.org, Science Newsline and Eurasia Review. Also featured on Breitbart.
Prof Glenn Gibson (Food and Nutritional Sciences) is quoted in a story on Natural News on research that suggests taking a probiotic could help mothers who are breast feeding to pass on important bacteria to their babies.
Italian website oggiscienza explores what research is being done in the Arctic to provide evidence for the effects of climate change and references the work of Ed Hawkins.
Bizcommunity reports that Henley MBA students in the UK have donated time to help NGOs in Cape Town, South Africa.
GDPR expert Ardi Kolah (Henley Business School) will be giving a talk at the upcoming GDPR Summit on 30th January, writes Digital Marketing Magazine.
Reading earworms research - on how to get rid of an annoying song stuck in your head - is mentioned on Seattle radio station KOMO-AM. Read our news story.