Why we're not heading for another ice age - Reading in the news Wed 10 Jan
10 January 2018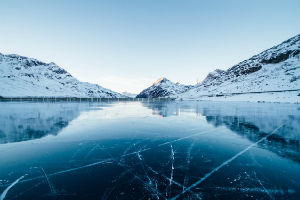 Here is today's media report.
Imminent Little Ice Age: The theory that a period of low solar activity forecast for the middle of this century may bring about a cooler climate is discussed in a feature in the Guardian, which quotes a paper by Professor Mike Lockwood (Meteorology) that explains why this is unlikely. Read about Professor Lockwood's paper here.
Ancient treasure: A partnership between the University of Reading, University of Manchester and British Museum to share goods from ancient graves with the public, including through the use of poetry, is mentioned in a feature in the Guardian.
Wind power risk: Dr Emma Suckling (Meteorology) is quoted in the Guardian's Weatherwatch column, warning that contingency plans are needed for when wind speeds drop during times of high electricity demands, as renewable energy sources contribute more to the grid.
Carbon emission disclosures: A Henley Business School study, suggesting the act of simply disclosing carbon emissions improves the share price of UK companies, is mentioned in a World Economic Forum article.
Punk history: ITV Anglia interview Professor Matt Worley (History) on his 'No Future' book on the history of punk music. The interview was aired on Tuesday evening and features on the ITV website. Read more about the launch of Professor Worley's book in our news story.
Education Secretary appointed: Dr Carol Fuller (IoE) authors an article for The Conversation, urging incoming Education Secretary Damian Hinds to tackle inequality in education.
Other coverage
The latest Reading International art exhibition 'Critic as Artist' in Reading Museum is featured by Mousse Magazine in Italy. Read more about the exhibition in our news story, and watch a video here.
BBC Radio Berkshire (1 hr 26 mins 42 secs) interviewed Professor Dominik Zaum (Politics & International Relations) about the talks between North and South Korea ahead of the Winter Olympics in Pyeongchang.
The Breeze FM reported on forensic analysis of mites and worms on a dead body discovered in a Swiss forest, which helped determine when the victim had died.
The Oxford Mail reported that Professor Glenn Gibson (Food and Nutritional Sciences) was to give a talk on bacteria and health in Oxford on Tuesday night.
A list of tips for being more productive on Xposé features a book suggestion by Matt Searle (Henley Business School), which teaches how to get into a 'deep work' state.
BBC Radio Berkshire mentioned the University of Reading's Ladybird Archive in an interview with Ladybird Books for Adults authors, Jason Hazeley and Joel Morris. Read more about the Ladybird Archive here.