Supporting pupils with anxiety - Reading in the news Thu 11 Jan
11 January 2018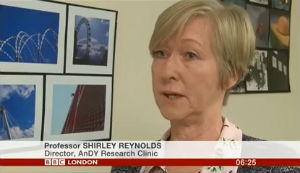 Here is today's media report.
Anxiety therapy: BBC London Breakfast featured a University of Reading project trialling a new therapy to help young people suffering from anxiety and depression, including an interview with Professor Shirley Reynolds (Psychology/AnDY clinic). BBC Radio Berkshire (19 mins 43 secs) heard from some of the children benefiting from the scheme and also interviewed Professor Reynolds live on their breakfast show. Read more about the partnership in our news story.
Castrati singers: Dr Alanna Skuse (English Literature) spoke to BBC Radio Berkshire (2 hrs 6 mins 18 secs) about the 18th century practice of castrating boys to allow them to maintain high singing voices, as a preview of her public lecture in Reading Town Hall exploring the relationship between voice and identity. Read more about the lecture here.
Other coverage
Times Higher Education mentions the University of Reading alumni team's performance in the final of Christmas University Challenge in its weekly round-up of higher education headlines.
Dr Steve Musson (GES) gave his thoughts to BBC Radio Berkshire (1 hr 2 mins 42 secs) on a proposed housing development in Reading, and the growing pressure to build as the HS2 line nears completion.
BBC Radio Humberside read extracts from Mills & Boon romantic books, held in the University of Reading archives, to mark Mills & Boon releasing a 'Rules of Romance' guide book.
Daily Sun reports on a globalisation seminar held at Primeasia University in Bangladesh, at which Professor Rajneesh Narula (Henley Business School) was guest speaker. Read about Professor Narula's recognition in the New Year Honours 2018.
NewsDog reports Reading research that shows chocolate is good for our eyes.