Secrets behind Dr Zhivago film - Reading in the news Fri 12 Jan
12 January 2018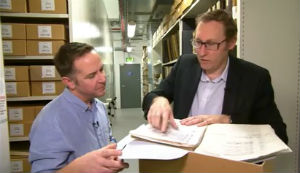 Here is today's round-up of media coverage featuring the University of Reading.
University archives: BBC South Today (20 mins 33 secs) visited the University's archives to look at memorabilia connected to film director David Lean, and interviewed associate director of the archive services Guy Baxter.
Depression study: BBC South (4 mins 15 secs) ran its full feature on a Reading pilot therapy project being trialled in local schools to support young people suffering from anxiety and depression. Professor Shirley Reynolds (Psychology/AnDY clinic) Read our news story.
Heart disease study: The University's METPLAR study (Biological Sciences), which requires blood donations to learn more about why some people are more at risk of heart attacks and strokes than others, featured on BBC South Today. Read our news story here.
Virtual reality use: Dr Matthew Nicholls (Classics) was part of a video streamed live by Sunoikisis DC in which he, alongside two University of London representatives, discussed how they were using virtual reality technology to aid university teaching. Read about Dr Nicholls' Virtual Ancient Rome course in our news story.
Other coverage
The University of Reading has put a development site for more than a thousand homes up for sale in Didcot, Oxfordshire. Property Week reports on this, and lists the site as one of its top five development sites to watch in 2018.
A LexisNexis news piece, on a judicial review being sought against the Scottish government's effective ban on onshore fracking, quotes Professor Chris Hilson (Law).
The University of Reading's Turing Test 2014, where a panel of judges were fooled into thinking a computer was a 13-year-old boy, is referenced in an Amazines article