Choose between a perfect or nightmare future London in Reading's Tate Modern takeover
18 January 2018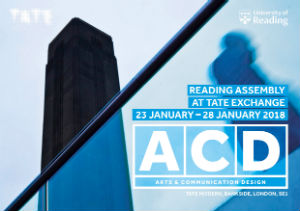 Visitors to the Tate Modern next week can explore a utopian or dystopian future London in an interactive project designed by the University of Reading.
The London 2050 installation combines moving images, thought experiments and green-screen technology to help visitors imagine their own perfect or nightmare visions of the capital. It is one of a number of free activities and workshops being brought to the art gallery by students and staff from Reading's School of Arts and Communication Design (ACD).
The School will stage Reading Assembly on the 5th floor of the Blavatnik Building as part of the Tate Exchange programme from Tuesday 23 January until Sunday 28 January. A full events programme is available here tate.org.uk/whats-on/tate-modern/tate-exchange/workshop/reading-assembly.
Tate Exchange is an 'open experiment' which allows outside organisations and members of the public to participate in Tate's creative process, running events and projects on-site and using art as a way of addressing wider issues in the world around us.
"This is a unique opportunity for our students, local schools and key partners to work with one of the world's leading cultural institutions" - Tina O'Connell, University of Reading and ArtLab
Over the course of a week, members of the public will be invited to join students and staff from the University of Reading, working with local and international partner organisations, in a series of free activities under the theme of 'Production', engaging with art, design, film and performance. These include:
Imagining London in 2050 through utopian and dystopian visions of a future city
Collaborative clay workshops with ArtLab and partner schools, using clay, green screen technology and 3D printing
Pop up sensory museum with PurpleSTARS, inviting visitors to bring an item to add to the museum
Reading International Partner Summit: Join us for a public meeting of Reading International partner organisations who will present and share ideas for the future of art and culture in Reading
Letterpress using historic printing press, plus design, green screen, and video workshops
Tamk Community Art Workshop, 'What's Your Story?': Contribute to Tampere School of Art and Design (Finland)'s community art workshop that turns stories into installations, drawings, photographs, and videos
Debates, performances and interactive activities on the politics of representation and identity and of artistic production
A series of lectures covering a range of topics in art, design, performance and film
Tina O'Connell, Associate Professor in Art at the University of Reading and project lead for ArtLab, which leads Widening Participation activity for ACD, said:
"We are delighted that the University of Reading and partners have been invited to produce this exciting series of art workshops in the renowned Tate Modern gallery. This is a unique opportunity for our students, local schools and key partners to work with one of the world's leading cultural institutions to provide some fun and fascinating activities for visitors to enjoy for free.
"Artlab lends itself to public engagement, but in working with Tate we hope that this will have real impact and take us to a new level of activity. Students will be central to delivering the activities, highlighting Reading's strength in the creative arts and providing our students with hands-on experience in collaborating with partners and engaging with the public."
Reading Assembly brings together expertise from all three departments within ACD – Typography & Graphic Communication, Film, Theatre & Television and Reading School of Art.
To find out more about Tate Exchange, visit tate.org.uk/tateexchange.
Dates: 23 – 28 January 2018, 12.00–18.00
Location: Tate Exchange – Level 5, Blavatnik Building, Tate Modern, Bankside, London