The warmest year without El Nino, Bayeux's coming home, and a new centre for Climate and Justice: Reading in the News - 19 Jan
19 January 2018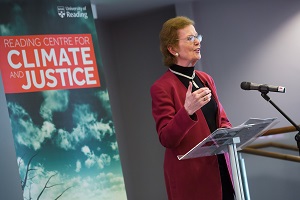 Warmest year without El Nino: Professor Richard Allan (Met) is quoted in reports about new data from the Met Office, NASA and NOAA saying that 2017 was the warmest year without the effect of El Nino. Articles appeared on the BBC News, and Buzzfeed. Work by Prof Ed Hawkins (Met) on climate visuals has also been included in Mashable's coverage of the story.
Prof Allan is also quoted in further reports about research suggesting that global temperatures are unlikely to see the extreme levels previously predicted, in Times of Israel, Sputnik News and TalkRadio.
Bayeux Tapestry: A comment piece for the Conversation by Professor Lindy Grant (History) about plans for the Bayeux Tapestry to be loaned to the UK. The article was reproduced in the Metro.
New Climate and Justice centre: The newly launched Reading Centre for Climate and Justice was discussed by Prof Chuks Okereke (GES) on BBC Berkshire (approx. 48 mins in).
Other coverage:
ITV Meridian covered the consideration of plans for the redevelopment of St Patrick's Hall, including complaints by certain residents.
Following the tracking of an escaped wolf in West Berkshire, Dr Tara Pirie spoke to BBC Berkshire (approx. 2hr 50 mins in) about the behaviour of wolves.
A feature on the International Cocoa Quarantine Centre, including quotes from Dr Andrew Daymond (APD), appears in AgWeb.
More 4 have run a repeated episode of Food Unwrapped in which the team visited the Food Pilot Plant to understand how ice cream is made.
A conference on GDPR supported by the Henley Business School is covered in Digital Marketing Magazine.
Study International report on the American Name Society, which includes members from UoR, deciding that 'Rohingya' is their name of the year for 2017.