'Connexin' the dots to prevent heart attacks with new BHF funding
22 January 2018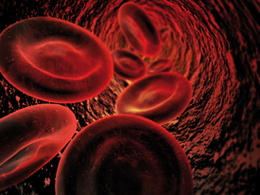 To help improve the prevention of heart attacks, scientists at the University of Reading are to investigate how blood clots form.
Professor Jonathan Gibbins has been awarded £246,000 by the British Heart Foundation (BHF) to study a group of proteins called connexins that are believed to play a crucial role in clot formation.
Professor Jonathan Gibbins said: "Platelets are individual cells which circulate in the blood, but when they're activated they work together in a coordinated way. The discovery that platelets use connexins to control this function means it could be an important target for efforts to reduce the risk of dangerous blood clots.
"Through this study we will discover how platelets use and regulate these proteins, and begin to learn what signals travel through the channels they form.
"If we can fully understand this process, it may ultimately be possible to develop treatments which could lower the risk of a heart attack or stroke by controlling connexin function in platelets."
Why Connexins?
Platelets are tiny blood cells that create clots by clumping together after an injury such as a cut. The chemical signals that enable them to recognise an injury are also present within the blood vessels of someone with heart disease.
This can trigger blood clots, also known as thrombosis, to form in blood vessels. If these clots block the coronary artery it can stop flow of blood to the heart muscle causing a heart attack.
To strengthen their ability to bind together, platelets communicate with each other through proteins called connexins. They form channels between platelets which allow them to pass chemical messages. However, the nature of those messages and how they influence blood clotting is not known.
Previous research by Professor Gibbins has identified three specific connexins which play a key role. In this new project, he will study genetically modified mice to learn how platelets use connexins in the clotting process.
Dr Subreena Simrick, Senior Research Advisor at the BHF, said: "Anti-platelet medications, which reduce the risk of blood clots, are commonly used to prevent heart attacks in high risk people.
"Unfortunately, existing medications don't work for everyone, and like all medications have potentially problematic side effects. Therefore it is important that we fund research that explores new ways of preventing the clots than can cause heart attacks.
"This work is only possible thanks to the generosity of the public. Without their continued support we would not be able to fund the science that can help improve the treatment, prevention and cure of heart disease."
In the UK there are nearly 200,000 hospital visits each year due to heart attacks: the equivalent of one every three minutes. An estimated 915,000 people alive in the UK today have survived a heart attack. In the 1960s more than 7 out of 10 heart attacks in the UK were fatal. Today at least 7 out of 10 people survive.
About the Institute for Cardiovascular and Metabolic Research
The Institute for Cardiovascular and Metabolic Research (ICMR) is a multidisciplinary centre that brings together scientists from a wide range of research fields to work to understand the development of cardiovascular diseases, and the underlying obesity-related metabolic diseases from which they develop.
Find out more at:
http://www.reading.ac.uk/icmr/
About the British Heart Foundation
For more than 50 years, the British Heart Foundation has pioneered research that's transformed the lives of people living with heart and circulatory conditions. Their work has been central to the discoveries of vital treatments that are changing the fight against heart disease. But so many people still need our help.
From babies born with life-threatening heart problems to the many Mums, Dads and Grandparents who survive a heart attack and endure the daily battles of heart failure.
For more information visit bhf.org.uk.