Are men becoming obsolete and what has shaped our view of the countryside? – Reading in the news Weds 24 Jan
24 January 2018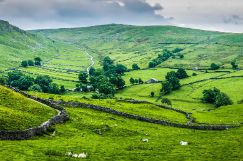 Male sexbots: Professor Richard Mitchell (Computer Science) provides comment for a Metro story on the rise of male sexbots, saying robots still have a way to go before they truly resemble a human being.
Our relationship with the countryside: BBC Radio Four (approx. 4 mins in) interviews Professor Peter Robinson (English Literature) on our relationship with the countryside and whether or not our view of the countryside is shaped by the writers and poets of the past.
Protecting bees: The Mirror features a story on two boys in Iowa that have been charged with killing half a million honey bees after they allegedly vandalised a honey farm. The article references a United Nations report led by Professor Simon Potts (Agri-Environment), which found that habitat loss, climate change and farming methods were the biggest contributing factors to a decline in pollinators.
Catching criminals: BBC Four (approx. 17 mins in) showed a repeat of an old documentary featuring Stuart Black (Archaeology) demonstrating the forensics methods used to catch criminals.
Be a CSI for the day: The University is offering teenagers the opportunity to spend the day as a Crime Scene Investigator (CSI). During a workshop organised by the School of Geography, Archaeology and Environmental Science on Saturday 10 March they will be uncovering clues and analysing a mock crime scene. GetReading reports.
2017's top climate papers: A study by Prof Paul Williams (Met) is featured in The Carbon Brief's top climate papers of 2017. Prof Williams' paper on the impact of climate change on air travel came in at number 12.
PFI schemes: Dr Ekililu Salifu (Henley Business School) has co-written a blog for The Conversation on the failure of Private Finance Initiative (PFI) schemes and how Carillion's collapse has brought with it wider scrutiny of the way that UK public services are contracted out to businesses.
Other coverage: