Next generation vaccine manufacturing to tackle MERS disease
22 January 2018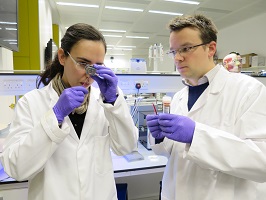 Money from £15m Industrial Strategy Challenge Fund to help University of Reading researchers and local pharmaceutical businesses produce "super-fast" vaccine
New technology to mass produce vaccines to tackle respiratory diseases is being trialled in Reading, with the help from Government funding announced today (22 Jan 2018).
The funding will support researchers from the University of Reading to work with Thames Valley-based biotech companies Anglo Biopharma and Absolute Antibody to trial manufacturing techniques that would allow them to quickly produce enough vaccine to tackle a potential outbreak of MERS, using an experimental vaccine developed by virologists at Reading.
Dr Alexander Edwards, Associate Professor in Biomedical Technology at the University of Reading said:
"The funding from Innovate UK and BEIS will allow us to try to make a new batch of the new MERS vaccine candidate really fast, using the latest advanced manufacturing technology.
"Conventional vaccine manufacturing methods are slow and it can take many years to develop a new vaccine manufacturing plant. This poses a problem when responding to global outbreaks such as SARS, Swine Flu, Ebola, Zika.
"Using our research in the development of a vaccine to respond to MERS, we hope that we can quickly produce the medicine and we may then be able to use the new technology to make vaccines much faster in response to any future global outbreak.
Dr Lee Smith, CEO of Anglo Biopharma said:
"We are very excited to work with the University of Reading and Absolute Antibody with funding from Innovate UK to pioneer this new production approach for our platform technology and the benefits that this could bring to the UK and overseas."
The Middle Eastern Respiratory Syndrome coronavirus (MERS-CoV) is a viral respiratory disease that can cause SARS and 35% of reported patients with MERS die as a result of contracting the disease. The experimental vaccine that will be tested in the new project was developed recently by the University of Reading and Anglo Biopharma through another Innovate UK feasibility study.
Further details about the Middle-Eastern Respiratory Syndrome coronavirus, including details found above, are available at:
http://www.who.int/mediacentre/factsheets/mers-cov/en/