Creative writing students to learn from published authors thanks to new appointments
25 January 2018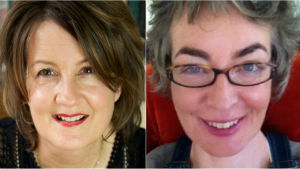 Two published authors will pass on their wealth of experience to students after joining the University of Reading as tutors.
Award-winning writer Kate Clanchy and bestselling novelist Shelley Harris will teach creative and persuasive writing courses in the Department of English Literature. They will also be involved in research and outreach activities.
Clanchy is a writer of fiction, poetry and drama. Her short stories have won the BBC Short Story Prize, and the V.S. Pritchett Prize, and she has had 11 plays produced on BBC Radio. She is author of Meeting the English and Antigona and Me, the memoir of her Kosovan neighbour that was awarded the Writers Guild Award for Best Book.
She said: "I'm very happy to be joining Reading and its excellent English department. I love to teach, and particularly look forward to working with undergraduates. I very much believe that writing and reading are best learned together, and that every English student should have the chance to write a story or a poem."
Harris is a bestselling novelist whose first book, Jubilee, was shortlisted for the Commonwealth Book Prize. It was featured on Radio 4's Book at Bedtime, and as a Richard and Judy Book Club Choice.
She said: "Creative writing is a joyful thing, which brings us closer to understanding ourselves and the world we live in. What's more, in a working future which will increasingly involve technology, those uniquely human creative skills will be hugely in demand. I'm delighted to be joining the English department at the University of Reading, and very much looking forward to teaching Creative Writing there. I've amassed a wealth of experience as an author which I can't wait to share, and of course I'll continue to write alongside my students."
Professor Gail Marshall, Head of the School of Literature and Languages at the University of Reading, said: "We are very pleased to have Kate and Shelley join the team. Not only do they both have fascinating writing profiles - they also have impressive track records as teachers."
Studying creative writing at Reading
Clanchy and Harris add to the authors already teaching at the University of Reading, including Dr Conor Carville and Professor Peter Robinson.
Creative writing courses are suitable for students who aim to be writers, as well as those who simply want to learn about the literature they enjoy reading from a new perspective.
The University of Reading offers a number of flexible creative writing course options. Current English students can choose to make it a significant part of the studies by taking the Creative Writing Pathway alongside their other modules, or alternatively take just one or two creative modules. The courses are available to students in each of the three years of their degree, while they can also choose to do their dissertation as a creative project.
For more information, visit the University's creative writing web page.