Get exclusive Reading Abbey Gateway access in new art workshops
02 July 2018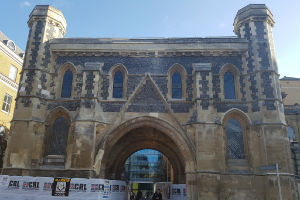 Art workshops within the newly-reopened Reading Abbey Ruins will allow members of the public exclusive access to the Abbey Gateway and help preserve its history.
A series of drawing workshops will be held from 5-7 July at the ruins, which were opened in June after nearly 10 years following a £3.15 million conservation project. The inner Abbey Gateway, not usually accessible by the public, will be opened especially for the project.
The 'Creating Ruin' workshops are part of a brand new programme of art exhibitions and events by Reading International – a collaboration led by the University of Reading.
"This is a unique chance for artists and audiences to be part of a project exploring and questioning our understanding of what constitutes a cultural monument" - Professor Susanne Clausen, University of Reading
The workshops will be led by artist Lada Nakonechna, who is in residence in Reading, drawing inspiration from the Abbey until the end of July. She is creating a collage of drawings on the abbey to publish online, which will include contributions by the public.
Reading Abbey was purged and damaged in Tudor times, during Henry VIII's dissolution of the monasteries, and destroyed in the 17th century during the English Civil War. Lada's work will explore the connection between creativity and violence and link the British narrative to the situation in contemporary Ukraine.
Workshop participants will be invited to take part in discussions on what it means to 'create ruin', as well as learn how to create their own online archives. Online screenings will include video works by artists who offer different narratives and fragments reflecting on the cultural and political landscape of Ukraine.
The project is delivered in partnership with Reading Abbey Revealed.
Professor Susanne Clausen, Director of Reading International, said: "This is a unique chance for artists and audiences to be part of a project exploring and questioning our understanding of what constitutes a cultural monument, and how our British context might be linked to the international situation of conflict. Additionally the Abbey Gateway is a well-known landmark connected to the Abbey Ruins Gardens and this is a rare opportunity to experience it as part of a new art commission."
Cllr Sarah Hacker, Reading Council's Lead Member for Culture, Heritage and Recreation, said: "These art workshops are an excellent opportunity for people to tap into their creative side in the inspirational setting of the newly opened Abbey Ruins. The Abbey Gateway is also a fantastic venue to Inspire our local artists. Now the abbey and gateway are open, there are so many opportunities for projects like this to take advantage of Reading's newly conserved heritage as a spring board for cultural and creative activities."
Mysterious billboards explore US massacre
Other events in the new Reading International programme include a billboard exhibition currently taking place in Reading town centre. Mysterious blue and white 'public notice' billboards have appeared in Crown Street, Oxford Road and Jackson's Corner since last week.
The billboards are part of a year-long project entitled 'A reproduction of three weeks in May 1970', led by curatorial and publishing platform NOVEL. It responds to the 1970 shooting at Kent State University of four students, who were protesting about the Vietnam War. It also refers to artist Rita Donagh's subsequent decision to team up with students at the University of Reading a year later to produce a series of events and performances responding to the shootings.
Like the students' work in 1971, the abstract text on the billboards is intended to represent relearning to communicate in a world where methods like image, sound and writing have been eliminated. The billboards will be changed periodically until December to explore six hypothetical laws in this imagined society.
The project also includes a video programme and a display of printed matter by NOVEL.
Also on the programme are ArtLab workshops exploring history in local primary schools, run by artists and students from the University of Reading.
Reading International is a £1 million collaboration bringing world class art to Reading, and involves the University of Reading, Reading Borough Council and Arts Council England.
Previous successful projects include the Inside: artists and Writers in Reading Prison, which saw the prison that held Oscar Wilde host an exhibition and talks in 2016, and a 'reading in Reading' project in spring 2018, where artist Ghislaine Leung worked with University of Reading students to create a sculpture presenting materials from Reading's Toy Library.
For more information, visit readinginternational.org.
Full list of upcoming events on new Reading International programme
'A reproduction of three weeks in May 1970'
1st May 2018 – 1st May 2019
ArtLab workshops with primary schools
4th June 2018 – 13th July 2018
Studio for Propositional Cinema billboards
14th June 2018 – 1st December 2018
'Creating Ruin' workshops in Reading Abbey ruins
Thursday 5th July 11am-6pm
Friday 6th July 11am-9pm
Saturday 7th July 11am-6pm
Webrecorder: Web archiving for all! workshop
6th July 2018 3pm-5pm
Image credit: Reading Abbey Gateway courtesy of Reading Museum