Stunning images show doctoral research from a new perspective
05 July 2018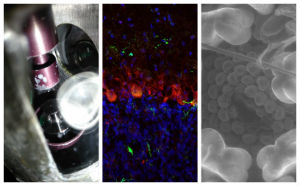 Images captured by PhD students during the course of their research have been showcased at an event celebrating the University of Reading's depth of postgraduate research.
The Research Image competition was part of the University's Doctoral Research Conference 2018, which allows doctoral researchers and their supervisors to present their highlights of the last year across a number of competition categories.
It allows unusual and non-academic methods of communication to be used to show research from new perspectives, and this year included a Poetry, Rhyme and Rap contest, which challenged students to present their life as a researcher in a light-hearted, humorous way.
The winning image, submitted by Ines Sera and entitled '24hr Surveillance', was captured during research into the role different cells within the brain play in behaviour alterations associated with autism.
See the full image gallery here >>>
Other award categories at the conference were PhD Researcher of the Year (won by Christoph Kent in the School of Mathematical, Physical and Computational Sciences), Research Poster (won by Jordan Bilsborrow in the School of Biological Sciences), Research life in Pictures (won by Shweta Band in the School of Law), Poetry, Rhyme and Rap (won by Ruth Barnes in the School of Chemistry, Food and Pharmacy) and Three Minute Thesis (won by Willemijn Doedens in the School of Psychology and Clinical Language Sciences).
This year's winning Three Minute Thesis focused on research that aims to find out how people with aphasia – a language impairment affecting speech, commonly caused by stroke – still manage to communicate despite their inability to rely on their language skills.