University honours individuals making key contributions to global issues
05 July 2018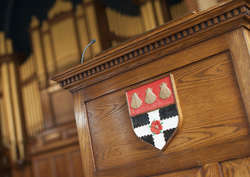 A Baroness who worked to make Britain fairer, a professor working to alleviate human malnutrition, a Nigerian civil servant championing education, and a creative industries leader have been recognised for their contributions by the University of Reading.
The honorary degrees will be handed out to four prestigious individuals this week, joining thousands of students graduating from the University of Reading.
Alleviating Global Poverty and Malnutrition
Professor John DH (Dyno) Keatinge MBE was made an Honorary Doctor of Science at Wednesday's ceremony.
He worked as a Professor of Agricultural & Rural Systems and Management at the University of Reading between 1993 and 1999. His time spent at Reading, and at a range of other international agricultural research centres, helped him gain global expertise in crop agronomy. He presently chairs the Wallingford-based Centre for Agriculture and Biosciences International's external advisory panel on horticultural products.
Professor Keatinge was presented as an honorary Life Fellow of the International Society of Horticultural Science in 2016 and awarded an MBE for services to the alleviation of global poverty and overcoming human malnutrition in 2017.
Professor Keatinge said: "I was very honoured and delighted to be recognised by the University of Reading, which has an outstanding international agricultural research pedigree.
"It was most gratifying to see the continued success and positive contributions made to agriculture worldwide by my old friends, colleagues and mentees at Reading."
Making Banking Fairer
Baroness Onora O'Neill, Baroness O'Neill of Bengarve, was awarded with a Doctor of Letters on Thursday.
She is a philosopher and crossbench member of the House of Lords, and was the founding President of the British Philosophical Association, which aims to promote the study of philosophy and assist professional philosophers to progress with their career.
Baroness O'Neill has held a large number of prestigious roles, including the position of Chair of the UK's Equality and Human Rights Commission from 2012 to 2016. The Commission operates independently from the Government and aims to make Britain fairer.
As a result of her many academic accolades, Baroness O'Neill was created a life peer in 1999 and has served as a member of the House of Lords since that time. She was also appointed a Member of the Companions of Honour in the 2014 New Year Honours and was awarded the Knight's Commander's Cross of the Order of Merit in 2016.
Baroness O'Neill said: "I am delighted and honoured to be receiving an honorary Degree from the University Reading, where I have long had links with the excellent Department of Philosophy."
Changing Lives through the Creative Industries
Professor Jonathan Shalit OBE was made a Honorary Doctor of Business Administration Degree on Thursday.
He is Chairman and Founder of the InterTalent Rights Group, the UK's pre-eminent independent talent management company. InterTalent represents household names across broadcasting, film, television, theatre, comedy, music, sport, digital, social media and literature.
Awarded an OBE in 2014 for services to the entertainment industry, Professor Shalit is widely recognised as an innovator and leader in the creative industries in the UK and globally. He was awarded an Honorary Professorship by Henley Business School in 2012 as recognition of his contribution to the Performing Arts and Creative Industries.
Professor Shalit is an adviser to government on the creative industries and is recognised as a respected media commentator on the entertainment industry. He is Chairman of the MOBO Charity Foundation (Music of Black Origin), a Trustee of both Chickenshed (Theatre Changing Lives) and Variety (the Children's Charity), Patron of the Royal Television Society and Co-Chairman of the Classic BRITS.
Professor Shalit said: "It is a singular honour to be recognised by Henley and Reading with the award of both an Honorary Doctorate and Honorary Professorship. I am extremely proud to represent both these great institutions and am continually inspired by everyone I meet there, especially by those who help make Henley and Reading such global centres of excellence."
Championing education in Nigeria
Professor Hafiz Abubakar is currently the Deputy Governor of Kano State, Nigeria.
Professor Abubakar obtained a PhD in Cereal Biochemistry in 1992 and Master of Science in Food Science (General Option) in 1985, both from the University of Reading. He has over 30 years of teaching and research experience and has published numerous books and articles.
Until his election as Deputy Governor, he served in various capacities at Bayero University Kano, Nigeria. Outside the University he also held positions on various Boards and Trusts.
Professor Abubakar was conferred with the national honour of Member of the Federal Republic (MFR) for services to the educational sector. He has personally built and donated many primary and secondary schools to his immediate community and beyond, sponsored numerous students to study at different levels of education in Nigeria and other parts of the world. He has also supported numerous educational and other developmental activities in Nigeria, including activities for the promotion of the University of Reading.
Professor Abubakar said:
"It's difficult to describe the feeling of being be back on campus, and to see the many developments and beautiful scenery of reading. It's really a great feeling."
He was made a Doctor of Science on Friday.