Why is it so hot everywhere? - Reading in the news Fri 6 Jul
06 July 2018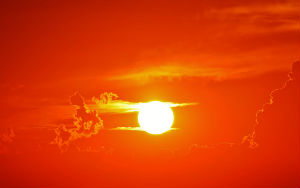 Global heatwaves: Financial Times quotes Dr Rob Thompson (Meteorology) on whether the record temperatures being seen across the northern hemisphere this week are connected, and whether climate change is a factor.
New Novichok case: Quotes from Professor Gary Stephens (Pharmacy) were featured by Reuters and are used in articles worldwide on the poisoning of a couple in Amesbury by the same Novichok nerve agent used on the Skripals in Salisbury earlier this year. Articles include ATT.net, Express, France24, Nation, Business Insider, Gulf News and Yahoo.
Communication strategy insight: Times Higher Education looks at the story of the University of Reading's tweet this week defending its new refugee scholarships, and the resulting public response. It also quotes Head of Corporate Communications Victoria Pearson on how the University's public communications methods vary across different channels. The tweet is also featured by Get Reading on its Real Reading podcast. Read our news story on the scholarships, which also now includes a link to a donations page that has been set up in response to pledges of support by well wishers.
Medicine waste: A story published by Pharmaceutical Journal on whether changing laws to allow patients to return unused medicines to doctors to be redistributed would be a practical way of reducing the tens of millions of pounds wasted on unused drugs quotes Dr Parastou Donyai (Pharmacy).
Banking fraud: A comment article on BoardAgenda.com by Professor Nada Kakabadse (Henley Business School) calls for action on banking fraud to repair public trust in the sector.
Other coverage