University to honour Ben Pedley with special graduation award
06 July 2018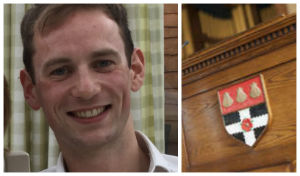 A Chemistry student who tragically died during his studies received a posthumous award from the University of Reading at this summer's graduation ceremonies.
Ben Pedley, a second year Chemistry student, died in March 2017 following a bicycle accident in Church Road, Reading. He was awarded a Diploma of Higher Education in the year that he would have graduated. His mother, father and brother collected the award on his behalf, in a ceremony held at the University's Great Hall on the London Road campus today [Friday 6 July].
He was awarded along with Harneet Arora, a Biomedical Engineering student who also died during the course of her studies in 2016, who posthumously received her PhD.
The following oration was given ahead of the award presentation, presented by the University of Reading Vice-Chancellor, Sir David Bell:
"Ben Pedley was in his second year at the University studying Chemistry, before his tragic and untimely death. The abiding impression of Ben was of a young man who had hit his stride here at Reading, both academically and socially, with a strong trajectory towards a great degree, a wide range of pursuits and a lively circle of friends. He was a talented musician and we honoured his memory at the Ben Pedley Memorial Concert in March. Dr John McKendrick [Head of Chemistry] described Ben as "a young man who personified the best of what we wish to see in our graduates; a deep interest in their chosen subject, well read, a global outlook with a human perspective.
'Immeasurably proud'
"Ben was part of the University of Reading and will always be. His loss is felt keenly by staff and his fellow students in the Chemistry department, and many of you here today will hold special memories of Ben. This sense of loss can be nothing compared to that felt by Ben's closest family who we welcome today to collect his award. We stand with them in honouring and remembering their wonderful son and brother, Ben."
Ben's mother, Jacquie Pedley, commented: "There are few who can claim to have made a positive difference to this world in life or in death, Ben achieved both. His self-discipline, intellectual curiosity and scholarly attributes earned him great respect amongst staff, students and friends at the University.
"Ben's thirst for knowledge, determination to achieve both academic and personal success and his consistent ability not to waste a single moment were but a few of his strengths. With the deepest of sadness we accept that Ben, whose unfaltering dedication to study is not with us today to collect his degree alongside his fellow students but we are immeasurably proud and honoured to accept on Ben's behalf this posthumous award and offer our sincere gratitude to the University for their unwavering compassion and support."
Vice-Chancellor of the University of Reading, Sir David Bell, said: "By making these awards we are recognising the hard work undertaken by both Ben and Harneet. It is, of course, deeply saddening that they are not here to collect them in person but I believe this is an opportunity to celebrate their lives and reflect on all the good that they did. They will forever be missed but never forgotten."