Vice-Chancellor, Sir David Bell, to leave the University of Reading
09 July 2018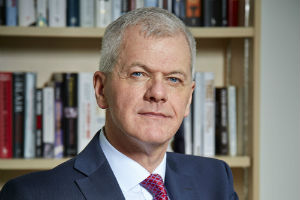 After nearly seven years in post, the Vice-Chancellor of the University of Reading, Sir David Bell, will be leaving in the autumn to take up the post of Vice-Chancellor and Chief Executive at the University of Sunderland.
Sir David joined the University in January 2012, following a six-year stint as the Permanent Secretary at the Department for Education.
Sir David commented: "I have enjoyed myself immensely at Reading. It has been both an honour and privilege to serve this great university.
"I would like to thank all of the staff and students who I have worked with in my time here. Through their collective efforts, we have maintained and enhanced our position in so many different ways. Under new leadership, I have every confidence that the University of Reading will continue to grow stronger and stronger in the months and years ahead.
"Now though, I look forward to taking on a new professional challenge at the University of Sunderland and returning to the north-east of England, where I spent a very happy decade earlier in my career."
The President of the University Council, Dr Paul Preston, said: "The University has been immensely privileged to have Sir David Bell as our Vice-Chancellor during the past seven years. He has reformed the University and has delivered financial, teaching and academic strength that is a platform for the future development of our organisation, both here on the Whiteknights campus and internationally.
"I hope that you will join me in wishing him success as he takes on new challenges and to thank him for the immense contribution that he has made as leader of our University."
The University Council, the body that governs the institution, is beginning the process of recruiting Sir David's replacement and will aim to ensure a smooth transition of responsibilities. During this process Professor Robert Van de Noort, incoming Deputy Vice-Chancellor (effective from 1 August 2018), will be appointed as Acting Vice-Chancellor. Sir David will leave the University in the autumn once appropriate transitional arrangements have been confirmed.