Why do some countries still have the death penalty? - Reading in the News Mon 9 Jul
09 July 2018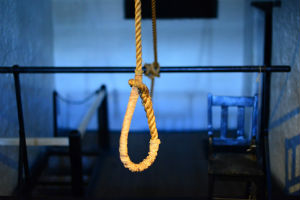 Japanese executions: Dr Mai Sato (School of Law) discussed the use of the death penalty in Japan on the Radio 4 PM programme (19 mins 30 secs), following reports the first member of the members of the doomsday cult that carried out an attack on the Tokyo subway in 1995 had been executed. Read Dr Sato's piece for The Conversation on the potential abolition of the death penalty in Zimbabwe.
Bees' Needs: Defra's Bees' Needs Week, running all this week, is previewed by the Asian Independent. Pollinator experts (Biological Sciences/SAPD) from the University of Reading are in London at an event in Carnaby Street – or 'Carnabee Street' as it has been renamed for this week – to highlight the challenges faced by bees and research going on to protect them. Environment Secretary Michael Gove MP is set to attend.
Ben Pedley legacy: A story by the Glasgow Evening Times tells how organs donated by former Reading student Ben Pedley have saved five lives, including that of a golfer who received his heart and has written to the family to say thank you. Ben was one of two students to receive honorary awards at last Friday's graduation ceremony, and this is reported by the Reading Chronicle. Read our news story on the awards here.
Water efficiency work: The University's work to reduce water consumption, which has led to a 28% reduction since 2012, makes the lead article in the latest Energy Managers Association magazine.
Plant care during heatwaves: A piece for The Conversation by Dr Alistair Culham (Biological Sciences), explaining the best time of day to water plants during hot weather, is published by Metro.
Other coverage