Special graduation award for student who left research legacy
06 July 2018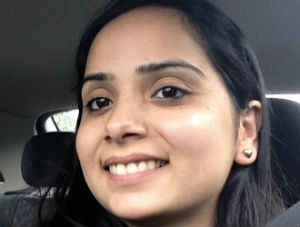 A student whose research into improving the battery life of mobile devices went on to be published after her tragic death has been honoured by the University of Reading at this summer's graduation events.
Harneet Arora was a Biomedical Engineering PhD student at the time of her death, due to a rare illness, in December 2016. At a graduation ceremony on Friday 6 July, a posthumous PhD was awarded to her, along with a separate award to fellow student Ben Pedley, a Chemistry student who also died during his studies.
The following oration given by Sir David Bell, Vice-Chancellor at the University of Reading:
"Harneet Arora was a Biomedical Engineering PhD student, and a valued team member in one of the largest UK-funded Engineering and Physical Sciences Research Council projects, the £12 million project SPHERE. Harneet discovered interesting properties of certain types of batteries that can be exploited to obtain an extra 20% of battery charge, allowing the tens of millions of personal medical wearable devices to work for longer. While Harneet's work has a clear application to many medical devices all over the globe, her work has the potential to benefit all of our personal devices, from mobile phones, tablets and laptops, even electric vehicles."
'Missed but never forgotten'
Harneet's battery life research was published in her honour shortly after her death in The Journal of Engineering in October 2017 by her Reading colleagues, with her name listed as lead author.
The paper looks more closely at a 'recovery effect' observed in certain batteries, which allows power to be managed and battery life to be extended. The findings are significant as this effect could be utilised to improve the functionality of mobile electronic devices.
Sir David added: "By making these awards we are recognising the hard work undertaken by both Ben and Harneet. It is, of course, deeply saddening that they are not here to collect them in person but I believe this is an opportunity to celebrate their lives and reflect on all the good that they did. They will forever be missed but never forgotten."