Why some people hate sugar-free drinks - Reading in the news Tue 10 Jul
10 July 2018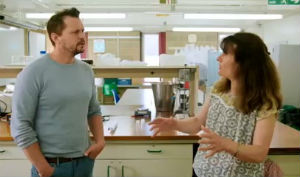 VC to leave: Times Higher Education reports the announcement that Sir David Bell, Vice-Chancellor at the University of Reading, is set to leave to take up the position of Vice-chancellor and Chief Executive at the University of Sunderland. BBC Radio Berkshire (33 mins 36 secs) reports, as does Sam FM, which revisited an interview they previously conducted with Sir David on the legacy he wanted to leave behind. Read our news story.
Sweetener research: Channel 4 (14 mins 30 secs) Food Unwrapped visited the University to speak to Dr Lisa Methven (Food and Nutritional Sciences) about why some people don't like the taste of sugar-free drinks due to the use of artificial sweeteners.
Greenhouse gas study: New research contributed to by Reading (Meteorology) showing fossil fuel emissions targets in the Paris Agreement might have to be reduced by up to 20% due to higher-than-expected greenhouse gas emissions from wetlands and permafrosts. The story is published on EurekAlert and picked up by Science Daily, ScienMag and Phys.org. Read our news story here.
Graduate's live-saving donation: The story of how Ben Pedley, a Reading Chemistry student who died during his studies, saved five lives by signing up the organ donor register shortly before his death is picked up by the Daily Mail, Express and This Is Money. A golfer who received Ben's heart is interviewed after he hit a hole in one and dedicated it to Ben, who was also a keen golfer.
Special graduation awards: The posthumous awards given to Ben Pedley and Harneet Arora at last week's graduation ceremonies are reported by Get Reading. Read our News stories on Ben here and Harneet here.
Other coverage