University pays tribute to former Chancellor Lord Carrington
10 July 2018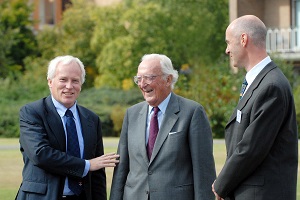 Tributes have been paid to Lord Peter Carrington, 6th Baron Carrington, Chancellor of the University of Reading between 1992 and 2007, who has died at the of 99.
Lord Carrington was educated at Eton and then the Royal Military Academy at Sandhurst. He took his place in the House of Lords in 1940, in succession of the title of Baron Carrington following his father's death in 1938. After serving in the Grenadier Guards in the Second World War, he turned to politics, notably serving as Defence Secretary between 1970 and 1974 and Foreign Secretary between 1979 and 1982.
Lord Carrington's contribution to the University was celebrated with the Honorary Degree of Doctor of Letters in December 1989, and he officially opened the Carrington Building on Whiteknights Campus in 2007 (pictured).
Sir David Bell, Vice-Chancellor of the University of Reading said:
"Although Lord Carrington was Chancellor Emeritus by the time I came to Reading in 2012, he was very generous with his practical advice and sound wisdom. I will always remember the twinkle in his eye as he told me many a good story from his long and distinguished career. Indeed, lunches with him were always to be looked forward to and enjoyed.
"Our country has lost an outstanding individual who gave his all, both in fighting fascism during the second world war and in serving at the highest reaches of government in peacetime. He will be remembered fondly by all those who knew him."
Lord Waldegrave, current Chancellor of the University of Reading said:
"Lord Carrington was in some ways possibly the most distinguished of all Readings's many distinguished Chancellors. I admired him enormously and he was a personal friend and mentor of mine. He was one of the outstanding public servants of his or any generation and we shall all miss him greatly."
Gordon Marshall CBE, Director of the Leverhulme Trust and former Vice-Chancellor of the University of Reading who worked alongside Lord Carrington said:
"'I will remember Peter with immense fondness. He was a dedicated supporter of the University, visited all of its Departments and Schools regularly during his years as Chancellor, and charmed everyone he met. As Vice-Chancellor, I benefitted personally from both his wisdom, and his boundless good humour. The University has lost a great friend."