New ranking places University of Reading 33rd in Europe for teaching and learning environment
11 July 2018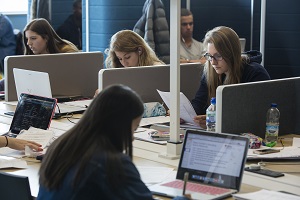 The University of Reading has been ranked 33rd in Europe in a new university league table published today (11 July 2018).
The latest ranking launched by Times Higher Education focuses on the student teaching and learning environment and student outcomes. From a total of 242 universities across eight countries in Europe, the University of Reading ranked 33rd and was 24th in the UK.
Sir David Bell, Vice-Chancellor of the University of Reading, said:
"This latest university league table shows once again that the University of Reading is among the top performers in Europe and that the teaching and learning environment that we provide our students is world-class. My thanks go to our academic and professional support staff who work hard to make Reading one of the best universities to study in the world.
"We're pleased to have placed prominently in the inaugural ranking looking specifically at the student experience, and we believe that this further underlines our commitment as an institution that prioritises both high quality teaching and research.
"We judge our success as an institution in many ways, of which league tables are one. While they are subject to fluctuation from year to year, we take encouragement from this new ranking and consider the result alongside other rankings as a helpful performance indicator."
Notably, the University of Reading scored highly for its environment, which looks at gender balance among staff and students. With a score of 90.1, the University's score was the second highest among top 50 Universities.
The new ranking was launched by Times Higher Education to look specifically at student engagement, and is based on sources including direct submissions from institutions, websites of institutions, the THE European Student Survey, the THE Academic Reputation Survey and Elsevier's bibliometric dataset.
Earlier this year, Reading was ranked 24th out of 116 UK institutions in the Times Higher Education Student Experience Survey 2018. It is also ranked in the top 200 in the 2017/18 QS World University Rankings and 32nd in the UK according to both the Times Higher Education World University Rankings for 2017/18, the Times and Sunday Times Good University Guide 2018, and the Complete University Guide 2019.