Trump touches down in the UK - Reading in the news Thu 12 Jul
12 July 2018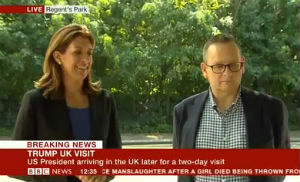 Trump visits UK: Associate Professor Mark Shanahan (Politics & International Relations) was in London all day with the BBC World News (3.07pm and 3.36pm among others) providing expert commentary on US President Donald Trump arriving for his UK visit.
Trade war: Professor Rajneesh Narula (Henley Business School) was interviewed by Al Jazeera on trade relations between America and China, and said that in the long-term it will be the US that suffers.
Refugee scholarships tweet: Times Higher Education's Week in Higher Education round-up features the University of Reading's Twitter response to criticism of its refugee scholarships scheme. Read about the scholarships in our news story.
Other coverage:
Coverage of Henley Business School's White Paper on the side hustle economy appeared in City AM. Read the Henley news story here.
Professor Andrew Kakabadse (Henley Business School) will be at Civil Service Live on Wednesday 18 July talking about his research 'Is Government fit for purpose?' with Rupert McNeil, Chief People Officer for the Civil Service and BBC's James Landale. The event is listed on Events Force.
The Hindu Business Line reports on a project involving Reading, looking at whether children who speak one language at school and their native language at home have different learning outcomes to those who speak the same language at home and school.
Image credit: BBC World News Channel