Head turning climate research earns scientist Royal Society medal
19 July 2018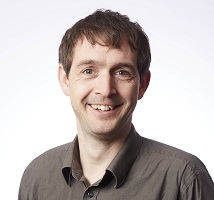 A climate scientist who has made a name for himself by communicating his research in a striking and accessible way is to be awarded a top Royal Society prize.
Professor Ed Hawkins at the University of Reading was today (19 July) named as the winner of the Kavli Medal. The prize is awarded annually for excellence in science and engineering relevant to the environment, and includes an invitation to present the high-profile Kavli Lecture.
Professor Hawkins' research, funded by the National Centre for Atmospheric Science (NCAS), aims to increase our understanding of how and why our climate has changed since the industrial revolution, and how it is likely to change in the future.
Professor Hawkins said: "I am truly honoured to join this group of leading environmental scientists and to have the opportunity to share my research during the Kavli Lecture. Communicating climate science has always been an important aspect of my research activities and I'm delighted to receive recognition from the Royal Society for these efforts."
He has specialised in communicating his findings in engaging ways, including illustrating global temperature increase since 1850 using a spiral diagram, which was seen by more than a billion people when it was used in the opening ceremony of the Rio Olympic Games in 2016. More recently, he presented global warming using a coloured stripes graphic which was used in a campaign by weather presenters worldwide.
His Climate Lab Book blog and Twitter following also allow him to effectively communicate his work to a wider audience, including harder-to-reach people who would not otherwise engage with climate research.
Other ways Professor Hawkins has engaged the public in climate research include his Weather Rescue project, in which citizen scientists were invited to digitise weather data captured by meteorologists at the summit of Ben Nevis more than 100 years ago. He also collaborated with an author to produce poems about climate change for the 2018 Hay Literary Festival, offering the public another novel way to engage with science.
Professor Hawkins is a Lead Author on the upcoming IPCC 6th Assessment Report, which brings together the world's best scientists to assess the latest evidence on climate change.