Whiteknights campus wins eighth Green Flag in a row
19 July 2018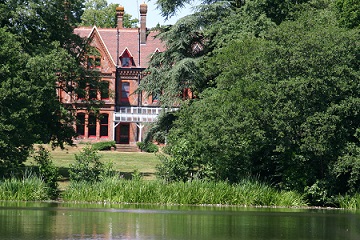 The University of Reading's Whiteknights Campus has been recognised as one of Britain's top green spaces for the eighth year in a row.
Each year, the Green Flag Award scheme recognises the UK's best public outdoor spaces, with winners judged on the overall quality of green space and the work that goes into keeping grounds in pristine condition.
Set within 123 hectares, the scenic Whiteknights campus includes a lake, woodlands and the popular Harris Garden - all available for students, staff and the local community to enjoy.
Colin Robbins, Director of Estates and Facilities, said:
"We are thrilled to receive a Green Flag Award for the eighth year in a row. The accolade reflects the consistent hard work and high standards of our maintenance and management teams, whose work is instrumental in creating the wonderful campus in which we work and study. Please join me in congratulating the teams for their award-winning efforts."
The Green Flag Award Scheme is run by the environmental charity Keep Britain Tidy. Now in its 22nd year, it recognises spaces within both the UK and overseas for setting benchmarks in grounds upkeep and accessibility. This year, a record-breaking 1,883 Green Flags awards were given to green spaces across the UK, almost 100 more than in 2017. Any green space that is accessible to the public is eligible to enter for a Green Flag Award.
For more information on the Green Flag Award scheme, visit www.greenflagaward.org.