The heatwave continues… – Reading in the news Thurs 26 Jul
26 July 2018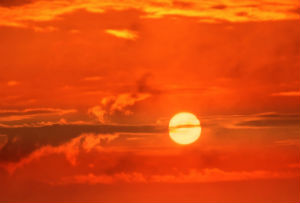 Why is it so hot?: Prof Len Shaffrey (Meteorology) has penned a blog for The Conversation entitled Three (and a half) reasons why it has been so hot and dry in the UK and Ireland. The blog post is also published on Metro and is featured within article in The Daily Mail and Express Digest. Prof Shaffrey is also quoted in an article for The Daily Star. Prof Ed Hawkins (Meteorology) also spoke to BBC Radio 5 (approx. 10 mins in) Live on climate change and its impact on extreme weather.
Elsewhere, an article for The Daily Mail says 'claims that the heatwave is down to climate change are just hot air' - the article makes reference to claims by Prof Rowan Sutton (Meteorology) on BBC Radio 4 yesterday that climate change is a big factor in the current global heatwave. Dr Rob Thompson (Meteorology) is also featured in The Express, commenting on how high pressure over Scandinavia appears to be driving temperatures up across Britain, and both Prof Sutton and Meteorology PhD student Simon Lee are quoted in this article for The Independent.
Finally, GetReading reports that the University has recorded 230 hours of sunshine this month alone, and 750 hours between May and July and Prof Bill Collins was on BBC Radio Berkshire (approx. 48 mins in) this morning discussing whether this type of weather could be normal by 2040.
Hidden figures: Professor Andrew Kakabadse (Henley Business School) spoke to People Management magazine about a study which shows some of Britain's biggest businesses are failing to share HR data in their annual reports.
Other coverage:
An Australian TV programme features an interview with Gemma Walton (Food) on why gas released by humans can sometimes be smelly and sometimes be noisy.
Reading will be one of seven organisations to offer education mental health practitioner courses from January 2019, under new Government plans to introduce mental health workers into schools to improve pupils' well-being. Nursery World reports.
Engage Customer covers the Customer Engagement Transformation Conference, which featured Andy Bryan (Henley Business School) as a speaker.
A climate change enthusiast and Tesla owner has had his car sprayed in blue and red stripes, and says he was inspired by Prof Ed Hawkin's (Meteorology) 'Warming Stripes' graphic. Renew Economy reports.
Former Reading student and Anglia TV weatherman, Jim Bacon, is interviewed by The East Anglian Daily Times on the summer heatwave.