Heatwave still a hot topic - Reading in the news Mon 30 Jul
30 July 2018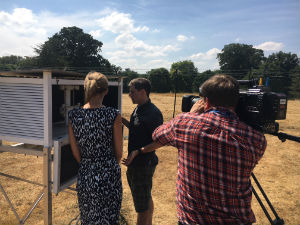 Heatwave coverage: Interviews by scientists in the Department of Meteorology about the heatwave and extreme weather in the UK and across the world continue. Professor Richard Allan was interviewed on Sky News and BBC World Service (28 mins), clips from which were used by National Public Radio on a number of US stations on Saturday. Dr Rob Thompson also spoke to Sky News about how severe the dry spell has been. Professor Ed Hawkins is quoted in a Mashable feature on the contribution of climate change top the record temperatures seen in many countries this summer. Professor Rowan Sutton was quoted in articles in the Guardian and Duurzaam Nieuws, and on LBC Radio on how climate change is making extreme weather more likely. Professor Len Shaffrey is quoted in a Quartz feature, explaining why the world has seen such hot temperatures. Read Professor Shaffrey's article for The Conversation on the reasons for the heatwave. Professor Rowan Sutton is quoted by the Irish Times.
Side hustles: Naeema Pasha, Director of Careers Service at Henley Business School, was interviewed on BBC Radio 4 (9 mins 45 secs) You and Yours on how lucrative running a business alongside a day job can be, and how potential pitfalls can be overcome. Read the Henley news story.
Other coverage
Dr Heike Schmidt (History) is quoted by Bulawayo 24 News and Harare 24 News on Monday's historic Zimbabwe elections and their significance in the country and beyond.
BBC Radio Wiltshire and BBC Radio Bristol report a Reading study suggesting showing children pictures of vegetables in picture books can encourage them to eat them in their next meal.
InsideEVs.com and Electrek reports on a man who decided to cover his Tesla car in a climate stripes graphic by Professor Ed Hawkins (Meteorology) to raise awareness of climate change issues.
EcoBusiness publishes an article written by Dr Luke Elson (Philosophy) for The Conversation on the moral dilemmas around flying despite the impact on climate change, and even around paying 'carbon offsetting' fees.
Reading University Drama Society's performance of A Romantic's Guide To The Apocalypse, which will soon be heading to the Edinburgh Festival Fringe, is reviewed by the Henley Standard.
The Star in Malaysia runs a feature and a video piece on the benefits of studying at the University of Reading Malaysia.
International Business Times reports on tasters being recruited by Nutella manufacturers Ferrero for a study at the University of Reading.