Watch Peter Tatchell give Wolfenden Lecture 2018 on the poisonous legacy of Section 28
01 June 2018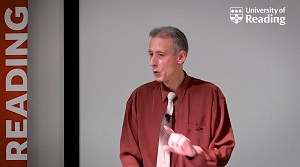 Massive self-censorship in local authorities and a poisonous legacy that resulted in pupils hiding their sexuality were just two of the ways in which the legacy of section 28 has been poisonous, according to Peter Tatchell in a lecture now available online.
Speaking to an audience at the University of Reading as part of 2018's annual Wolfenden Lecture on the 30th anniversary of the enactment of Section 28, Tatchell shared his experiences as an LGBT+ activist for more than 40 years, including 15 years of the controversial law.
Watch Peter Tatchell give his lecture on the legacy of Section 28 at:
https://www.youtube.com/watch?v=5qP4UCXij0Y
This year, the University held a series of events to mark the 30th anniversary of Section 28 of the Local Government Act 1988 – repealed only in 2003 - which stated that local authorities shall not "promote the teaching in any maintained school of the acceptability of homosexuality as a pretended family relationship".
In addition, on Thursday 24 May the University of Reading held the first Wolfenden Seminar on "Section 28: Context, Impact, and Resistance". The guest seminar featured a discussion panel including Rosemary Auchmuty, Eve Featherstone, Deb Heighes, and Booan Temple. In a passionate and interesting discussion, the seminar reflected on the political and social contexts in which the legislation was proposed and passed, its impact on individuals, families and organisations, and the strategies developed for protest and resistance.
The event is named in memory of Lord Wolfenden, who was Vice-Chancellor of the University of Reading from 1950–64. Lord Wolfenden chaired a committee that wrote the 1957 'Wolfenden Report', a key milestone in LGBT+ history in the UK. The first annual lecture was held last year to mark the 60th anniversary of the report's publication, and the lecture was given by Ruth Hunt, CEO of Stonewall.
Watch Ruth's lecture here:
https://www.youtube.com/watch?v=e8r3w2sif0s