World's first adaptation of Beckett novel brought to London stage by Reading PhD student
05 June 2018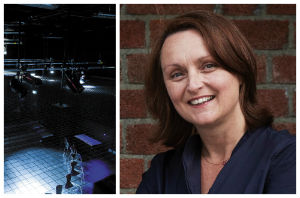 Insight offered by a unique PhD programme has helped a theatre director bring a challenging Samuel Beckett novel to the stage for the first time – and to great acclaim.
Judy Hegarty Lovett, a PhD student in Film, Theatre and Television (FTT) at the University of Reading, is co-founder and Artistic Director of Gare St Lazare Ireland who have been presenting critically celebrated performances of Beckett's work for more than 20 years.
Supported by supervision by Reading FTT tutors on the PhD course, and the exclusive access it offers to the world-leading Samuel Beckett Collection held by the university's Special Collections, Judy directed the first ever stage interpretation of Beckett's How It Is in London's Print Room.
Judy has been working on a practice-based PhD, focused on a performance How It Is, with Gare St Lazare Ireland and collaborators. Reading's FTT department specialises in practice-based research and held the first Arts and Humanities Research Council-funded practice-based PhD in Theatre in 2000.
Watch Judy explain how her PhD research helped her stage How It Is >>>
'Huge insight'
Judy said: "My PhD at Reading has offered me huge insight into my own practice and has given me the confidence to voice that clearly."
Part I of the How It Is project opened at the Everyman Theatre in Cork in February 2018, before it played at the Print Room, in Notting Hill, until 19 May.
"Many of our students were already successful professional practitioners but sought to do a PhD at Reading to inform and enrich their practice" - Professor Anna McMullan, FTT PhD supervisor
The performance makes use of the atmospheric nineteenth century theatre. It explores the instability of Beckett's narrative voice, how the imaginative landscape can be adapted to live performance, and how the humour and poetry in the prose is revealed as it is spoken by the performers.
How It Is has had several positive reviews, including being described as a 'mesmerising adaptation' by The Stage and 'ambitious' and 'ingenious' by the Telegraph.
Previous FTT graduates in Theatre have included Sarahjane Scaife and her Company SJ, and live performance artists Traci Kelly and Martin O'Brien.
Unique Beckett resources
Professor Anna McMullan, one of Judy's FTT supervisors along with Professor Lib Taylor, said: "The University of Reading is a particularly rich environment for practice-based doctoral research in Beckett as students have access to the expertise and unique resources in Beckett Studies and to long-standing experience in practice-based PhD supervision. Many of our students like Judy and Sarahjane Scaife were already successful professional practitioners but sought to do a PhD at Reading to inform and enrich their practice."
Original work inspired by materials within the Samuel Beckett Collection is currently being produced by an award-winning author as part of a new Samuel Beckett Creative Fellowship at the University of Reading. Irish author Eimear McBride became the first Creative Fellow at the University's Samuel Beckett Research Centre after it launched in 2017.
Find out more about the Beckett Research Centre here.