See students' imagination come to life in Reading Art degree show
07 June 2018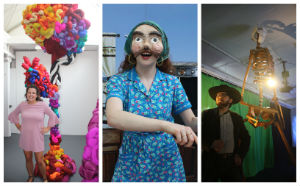 A wartime hospital-themed exhibition is showcasing creative works by final year Art students at the University of Reading.
The A&E exhibition features paintings, sculptures, photography and film displayed throughout the corridors and exhibition spaces of the Art department, on Whiteknights Campus.
For one week only, members of the public are being invited to see the artwork, which explores a range of themes, such as death, illness, identity and technology.
"In this course, we've really been encouraged to experiment and try different approaches to art" - Natasha Carter, fourth year BA Art student
Professor John Russel from the School of Art said: "We are very proud of our students and this year's Degree Show. The contrast of scale, subject matter and media in this year's show is particularly dramatic."
Among the installations in the annual display of work by final year BA and MFA students at Reading is a recreation of the human body in textiles, huge knitted looms representing back pain, and a wall of still life paintings designed to make the viewer feel claustrophobic.
Performances pieces on the opening night included a depiction of a female Italian stereotype by Philippa Knox, who performed in a kitchen set while blindfolded by a mask; and a visual metaphor for the shunning of overweight people by Natasha Carter, who performed a YouTube dance class while wrapped in a duvet.
Natasha, 21, a fourth year BA Art student, said: "In this course, we've really been encouraged to experiment and try different approaches to art, not just within the confines of painting and sculpture, which is something I've really valued and taken a lot from. I would never have imagined I'd end up doing a performance.
"It's crazy to see how everyone's developed throughout the four years. This degree show is definitely going to be a good one."
The A&E final degree show opened to the public on Monday 4 June and runs until Sunday 10 June. Opening times 10am-4pm Mon-Fri and 11am-6pm Sat/Sun.
For more information on all the artwork and artists, visit http://ae2018.co.uk/artists/
Final degree shows by students of Architecture and Typography & Graphic Communication are also open to the public next week. The School of Architecture show, Make Design Perform, and Typography & Graphic Communication Degree Show both run from 11 June to 16 June. Visit reading.ac.uk/events for more details.