Job juggling, caring for carrion, and Gibson's guide a good gut: Reading in the News - 7 June
07 June 2018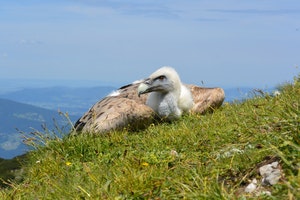 Portfolio Careers: Professor Bernd Vogel (Henley Business School) appeared on BBC Radio 4's Money Box to discuss the pros and cons of juggling several jobs.
Vultures: A blog for the Foreign and Commonwealth Office on a hidden consequence of poaching – the poisoning of carcasses which leads to vulture deaths. The post by Andre Botha from the Endangered Wildlife Trust notes that research is being conducted by the University of Reading on the response by charities to protect carrion.
Bacterial diversity: Professor Glenn Gibson (Food) is quoted in an article looking at research into dietary fibre and the diversity of gut bacteria. The story in Nutraingredients USA notes that Prof Gibson was not involved in the study, but commented independently as head of the Food Microbial Sciences unit.
Other coverage:
Dr Dina Rezk (History) appeared on RT News talking about threats to the Iran nuclear deal following comments by Israeli PM Netanyahu.
The Basingstoke Gazette reports on law students from Queen Mary College in the town that have won awards for their interest in the subject. The report notes that one of the winners has an offer to study Law at UoR.
GetReading notes various events taking place this weekend around Reading, including Open Farm Sunday, the annual Whiteknights Studio Trail, and Autistic Pride Reading in which PhD student Ruth Moyse is speaking.
A blog article for LSE Business Review written by UoR Alumni Gerry Brown looks at the lack of transparency by a company board following the departure of their CEO.
The Irish Independent reports on the appointment of UoR PhD graduate Professor Thia Hennessey to the Teagasc Authority – the Irish Agriculture and Food Development Authority.
An article on research by UoR Food scientists on the effect of drinking a type of flavonoid-rich orange juice on cognitive performance, in Medisite.fr.
Turf Matters reports on the launch of a new type of seed mixture to tackle the decline in pollinators. The mixture was developed using research from the Urban Pollinators Group which features the University of Reading.