Major archaeological project wins EU funding to investigate the earliest settled societies in Iraq and Iran, 17,000-7000 BC
08 June 2018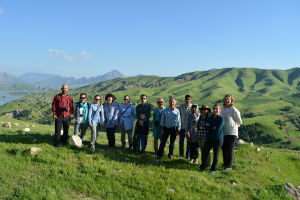 University of Reading archaeologists have succeeded in winning a highly prestigious European Research Council Advanced Grant of €2.5 million (£2.2 million) for a multi-disciplinary project entitled MENTICA Middle East Neolithic Transition – Integrated Community Approaches.
The five-year grant will support six work packages involving archaeological excavations and scientific analysis of early agricultural communities in the Zagros mountains of Iraq and Iran, one of the core regions where human societies first made the transition from mobile hunter-gatherers to settled farmers, founding the basis for the cities and civilisations that followed.
The study is one of the largest of its kind ever undertaken to provide the scale needed to investigate the local and regional development of communities along a major ancient routeway (later the Silk Road). It is led by Professor Roger Matthews with Dr Wendy Matthews, both in the Department of Archaeology, University of Reading. All work will be in full collaboration with colleagues in universities and state antiquities departments in Iran and Iraq.
Professor Roger Matthews said: "This generous grant from the ERC will allow us to highlight the unique archaeological significance of this region of the Middle East for one of the most significant episodes of change in the history of humanity. Our project is also seeking to establish a sense of community ownership of heritage sites, through engagement with local and national communities, which is vital for their protection in conflict-affected regions."
Ancient communities
The team of researchers and excavators will excavate at the important heritage sites Zarzi and Bestansur in Iraq, and Sheikh-e Abad in Iran which span these transformations from 17,000 to 7000 BC. These key sites lie within the under-researched area of eastern Fertile Crescent in the Middle East where communities were first able to settle and farm on fertile land in the biodiverse uplands east of the Tigris and Euphrates rivers.
The team will explore how ancient communities in the highlands and lowlands of Iran and Iraq were connected with each other and with other contemporary communities across the Fertile Crescent and beyond, following the routes later known as the Silk Road. Evidence previously uncovered at Sheikh-e Abad and Bestansur suggests people traded in materials across more than 1,500 km and that they were amongst the first communities to domesticate plants and animals, such as cereals and goats.
"Prehistoric people in this region faced many challenges to their new community lifestyle which they had not experienced before" - Dr Wendy Matthews, University of Reading
Previous excavations by Roger and Wendy in this region, supported by grants from the Arts and Humanities Research Council, the British Academy, National Geographic Society and other bodies, have uncovered evidence of Neolithic buildings constructed by prehistoric communities to support farming and trading lifestyles. The elaborate buildings and the artefacts discovered within them are being studied using a range of state-of-the art techniques.
Dr Wendy Matthews said: "Human societies have always had to adapt to change. Prehistoric people in this region faced many challenges to their new community lifestyle which they had not experienced before, such as living in larger more densely populated settlements and diseases that affected them, their crops and livestock. We hope to learn lessons from the past about how humans addressed these global challenges and climate change, allowing more complex societies to thrive."
Roger and Wendy are the only archaeologists currently directing archaeological research in both eastern Iraq and western Iran in collaboration with Iraqi and Iranian colleagues. Together with these colleagues they are providing unique insights into one of the core regions in the origins of agriculture and settled life, which are the foundation of communities today. As President of RASHID International, Professor Matthews works closely with local communities and authorities to preserve and promote awareness of Iraq's cultural heritage. The organisation collects information on damage sustained at the sites and lobbies for international laws and agreements to protect them.