Focus on business and people wins forward-thinking business manager Inspirational Woman prize
12 June 2018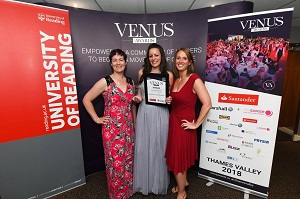 A woman who has led the rapid expansion of a business while inspiring staff and supporting flexible working arrangements has won the University of Reading's 'Inspirational Woman' prize at the Thames Valley Venus Awards.
Anna Sampson, who took over as General Manager and Creative Director of Newbury-based digital design and advertising company Boomerang Creative nine months ago, has overseen her team double in size and bring in high-value new clients.
While focusing on business success, Sampson (pictured alongside Professor Ellie Highwood and Victoria Pearson from the University of Reading)has ensured staff have been able to fit their working hours around their individual circumstances while also creating the company's first ever apprenticeship role.
She was named the winner at the final awards night at the Madejski Stadium in Reading on Friday 8 June, attended by the finalists and sponsors of all 12 categories.
Professor Ellie Highwood, Dean for Diversity and Inclusion at the University of Reading, said:
"Anna knows that acting locally is sometimes the best way to make a massive difference. As a senior manager in the male-dominated design industry, she works tirelessly to drive positive change in her company and the industry, and uses creative solutions to inspire those around her to achieve their full potential."
The Santander Thames Valley Venus Awards 2018 seek to recognise the contribution of women in business to the local, regional and national economy.
The University of Reading sponsored the Inspirational Woman category in the Thames Valley region for the first time in 2017. Last year, the category was won by Lucy Coulbert, Director of The Individual Funeral Company, which seeks to provide affordable funerals to families struggling to meet the cost.
It was an incredibly close competition, with the other two finalists in the 2018 Inspirational Woman of the Year category also showing the difference that drive and determination can make:
Louise Fetigan joined the Army as a teenager and went on to found Little Troopers in 2011 to help children in Armed Forces families, like her own, to cope with pressures such as frequent relocation.
Young entrepreneur Julianne Ponan has achieved great success with award-winning nut-free snack bars and other products since launching Creative Nature, despite her personal battle with severe food allergies and even having to work from her hospital bed.
<!--[if !supportLists]-->

The submissions of all three finalists were examined by a panel of judges from the University, who read their individual success stories and focused on how they have sought to inspire others.

Like the staff at Boomerang Creative, Professor Highwood has benefited from flexible working arrangements at the University of Reading, which have allowed her to fulfil her role as Dean for Diversity and Inclusion on a job share basis. This was mirrored when the University appointed two new Pro-Vice Chancellors for Research and Innovation earlier this year also on a job share basis – thought to be the first time this has been done at board level at a UK university.

This is one of a number of initiatives at the University aimed at promoting equality and opportunities for women, which has seen it recognised for its work increasing career development opportunities for female scientists and promoting diversity in key positions by the Athena SWAN initiative.

Image Credit: Christian Lawson, 2018.