Poisonous plants history and how to choose a university - Reading in the news Wed 20 Jun
20 June 2018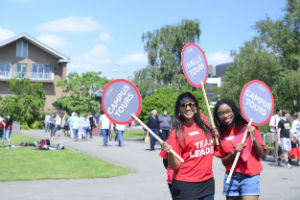 Poisonous plants: Radio 4's Making History (13 mins) visited the University of Reading Herbarium to learn about poisonous plant species and their uses in medieval times from Professor Julie Hawkins (Biological Sciences) and Professor Anne Lawrence-Mathers (History).
Guide to open days: The Guardian spoke to a mother and daughter, who now studies Psychology at Reading, about their experience of attending university open days, and how they would advise others to approach them to help choose a university.
Predicted grade admissions: Calls to do away with predicted grades for students applying to study at universities were discussed by Professor Helen Bilton (IoE) on BBC Radio Berkshire (53 mins).
Other coverage:
A feature in The Star in Malaysia on why people might choose to live in Johor, citing the University of Reading Malaysia in its EduCity as an example of the top-class education available there.
Asian Voice quotes Vice-Chancellor Sir David Bell in a report on a Girls' Day School Trust conference in London, also attended by Eton headmaster Simon Henderson. Sir David spoke about the importance of social media to young people in a discussion on whether confiscating mobile phones from pupils is an outdated practice.
A feature in the Independent on books chosen by Desert Island Discs guests on Radio 4 refers to a 1993 survey by the University of Reading which asked children's authors to pick books they would give to a child marooned on a desert island.