Wear your stripes for climate change! - Reading in the news Thu 21 Jun
21 June 2018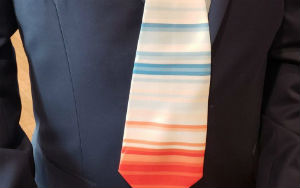 Cannabis oils: The Spectator interviewed Professor Gary Stephens (Pharmacology) about the use of cannabis oil to treat epilepsy, in connection with the Billy Caldwell story that has been widely reported.
Career prospects: Students from Reading and Henley Business School spoke to Times Higher Education about their experiences of the joint award-winning careers services. Read more about the national award here.
Human rights: Professor Rosa Freedman (School of Law) was interviewed for Russia Today on footage that has emerged of children being detained at Heathrow airport, arguing children should not be detained unless for security reasons, and there should be a rethink of how migrants are treated when they arrive at international borders. She also spoke to Al Jazeera and TRT World on the decision of the US to leave the UN Human Rights Council. Read Professor Freedman's blog on The Conversation in response to the US's withdrawal, which was picked up by Sight Magazine.
Climate change campaign: In a Forbes article, Professor Ed Hawkins' (Meteorology) climate stripes graphic – illustrating how global temperatures have risen since records began in 1850 – is cited by US television meteorologist Jeff Berardelli as the inspiration for his #MetsUnite campaign to raise awareness of climate change for the summer solstice this year. The campaign and Professor Hawkins' graphics are also featured in a blog on the American Geophysical Union (AGU) website.
Other coverage
Image credit: Photo courtesy of Marshall Shepherd via Forbes.com