African and UK military leaders discuss UN Women, Peace and Security agenda
22 June 2018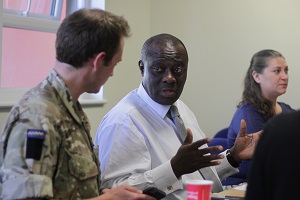 First workshop of its kind to share best practice between African armed forces, MOD and British Army on women's equal participation in peacekeeping
African and British armed forces delegates joined with academics to discuss ways to ensure women are equally represented in peacekeeping operations, in the first workshop of its kind in the UK.
Twenty five male and female delegates from African militaries as well as Kenyan and Brits working with the British Peace Support Team – East Africa UK defence attachés; staff from MOD, the British Army, Foreign and Commonwealth Office, NGOs, and academics working on gender mainstreaming in peacekeeping and peacekeeping training attended a workshop held at the University of Reading.
In the first workshop of its kind, held in partnership with King's College London and the Ministry of Defence, delegates identified and discussed barriers to women's equal participation in peacekeeping workforces, and reviewed how operational level or officer level training can help to improve women's integration at all decision-making levels in peacekeeping.
Dr Georgina Holmes, a Leverhulme Early Career Research Fellow at the University of Reading co-chaired the workshop with Dr Andrea Ellner and Whitney Grespin from King's College London after Professor Parveen Yaqoob from the University of Reading welcomed delegates and opened the workshop.
Dr Holmes said:
"The UK is a key advocator of the UN's Women, Peace and Security agenda, but only returned to deploying troops to UN missions two years ago. It has therefore been a great privilege to host the first ever workshop of its kind in which delegates from African and UK armed forces can meet together to discuss ways of better achieving gender parity in peacekeeping.
"By providing space for constructive discussion, the event allowed African partners to share their vast experience in training and deploying women to complex UN and African Union peacekeeping missions with the British Army and MOD.
"Leadership at all levels is crucial for the effective implementation of the UN's WPS agenda in peacekeeping operations and as part of our session we were able to come around a table to reflect on best practice at operational and tactical level."
Further information about the University of Reading's UN and Global Order Programme, which brings together academics and policy makers to respond to key challenges faced by the UN and global governance systems, is available at:
https://research.reading.ac.uk/ungop/
Image: University of Reading, Brigadier General Aryeetey of the Ghana Armed Forces and Major Tim Graham in discussion, 2018.