Cannabis-based epilepsy drug receives US approval
27 June 2018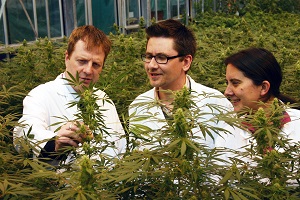 A new drug to help sufferers of two severe forms of epilepsy has been approved for licence.
EPIDIOLEX, which is a drug based on a cannabis-derived compound CBD whose role in preventing seizures was shown at the University of Reading, has been developed by GW Pharmaceuticals PLC and will now be available in the US following approval by the Food and Drug Adminstration (FDA).
Prof Gary Stephens, a Professor of Pharmacology at the University of Reading said:
"We're delighted to hear that the FDA have approved the cannabinoid-based drug CBD (under the tradename Epidiolex) for use to treat some of the most severe forms of childhood epilepsy.
"For more than 10 years work at the University of Reading has underpinned the first identification of CBD as an anti-epileptic agent and made a major contribution to creating a life changing drug intervention that will make a substantial difference to people with epilepsy. We are now looking at other exciting opportunities to see how CBD can be used to treat other illnesses now that it has been approved, and we hope that Epidiolex will be available for people in Europe soon.
The drug has been approved by the United States Food and Drug Administration for the treatment of seizures associated with Lennox-Gastaut syndrome (LGS) or Dravet syndrome in patients two years of age or older.
Find out more about our ground-breaking research at:
http://www.reading.ac.uk/areyouready/are-you-ready-drugs-that-work.html