Animal Welfare scientist wins national award for "exceptional" contribution
28 June 2018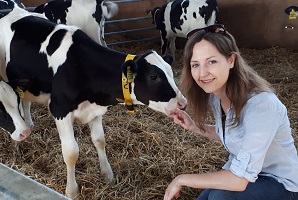 An academic whose work understanding the emotional welfare of animals including cattle and mink has won a national award for her research.
Dr Rebecca Meagher, a Lecturer in Dairy Animal Science at the University of Reading has been awarded the Universities Federation for Animal Welfare (UFAW) Young Animal Welfare Scientist of the Year Award in recognition of her exceptional contribution to the field of animal welfare.
Dr Meagher's research on a range of species - cattle, mink, mice and parrots- has had at its heart two critical questions that are relevant to almost every animal we keep. First, how can we really tell what animals are feeling? And second, why doesn't satisfactory food, water, health and thermal comfort suffice to guarantee good welfare?
Dr Meagher was nominated for the award by her former PhD and post-doctoral advisor Professor Georgia Mason, who said: "Becky is scholarly, thoughtful, innovative, productive and likely to play a leading role in the future of animal welfare science."
Dr Rebecca Meagher, is currently lecturing in Dairy Animal Science at the University of Reading. She has worked in two of the largest welfare science groups in North America (Guelph and University of British Columbia), becoming knowledgeable about welfare issues in a diverse range of animals, especially agricultural. She has taught welfare science to undergraduates and graduate students, including developing new courses and using innovative educational techniques.
In 2012 she lead-authored the first ever practical demonstration of boredom-like states in animals in barren housing conditions. This attracted considerable attention from the science media, and has since been accessed over 10,000 times.
Her PhD tackled an unusual theme: why are captive animals often so inactive, and does it matter? To address this she carefully developed and authenticated indicators of the states of fear, depression, apathy and boredom in the mink. Becky's subsequent work on simple improvements for farmed mink helped change animal care codes in Canada (so improving the housing of millions of these animals each year).
Dr Robert Hubrecht, UFAW's Chief Executive who presented the award said:
"Dr Meagher's research has addressed very challenging animal welfare science issues, including individual differences that may affect animals' housing requirements and inferences about animals' mental states. Her work shows considerable promise for an outstanding career in animal welfare science and she is a very worthy recipient of this award."
She will be presented with her award at UFAW's 2018 one day conference held at the Centre for Life, Newcastle, on the 28th of June.
Notes:
Find out more about the University of Reading's work with animals at:
https://www.reading.ac.uk/research/animal-research.aspx
The Universities Federation for Animal Welfare Young Animal Welfare Scientist of the Year Award is to recognise the achievements of young scientists who have made significant contributions to improving the welfare of animals.
It is open to postgraduate students, anywhere in the world, currently studying for a doctoral degree or who are within six years of the end of their PhD.