A record-breaking year for University's Students in Schools programme
28 June 2018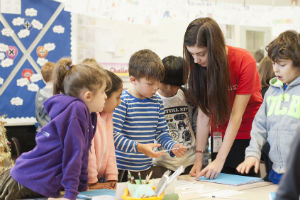 A record number of University of Reading students have taken part in this year's Students in Schools programme.
The programme, which has been run by the University for more than 20 years, enables student volunteers to work at local schools alongside teachers, with the aim of raising the aspirations of school pupils and encouraging them to continue into higher education.
This year, almost 400 students have volunteered across 45 local schools, a 25% increase on last year's volunteers. This year alone, Reading students have spent in excess of 6,500 hours volunteering, working with pupils on virtually every aspect of the curriculum. Many overseas students provided 1:1 language support in languages including Mandarin, Polish, Greek, Turkish, Spanish, Bulgarian, Arabic, Japanese, Korean and Russian. Several Arabic speaking volunteers were also able to offer support to Syrian refugees.
A celebration event hosted at the University's Whiteknights campus on Tuesday 12 June included University students, pupils and teachers from Loddon and Whiteknights primary schools, John Madejski Academy and The Bulmershe School, all of which participated in the programme. The schedule for the day started with ice cream and was followed by a science activity, where pupils got the chance to make a bath bomb, and then by a University Challenge-style quiz.
The University of Reading Vice-Chancellor, Sir David Bell, awarded medals to the winning secondary and primary school quiz teams, which were from The Bulmershe School and Loddon Primary School, and congratulated all of those involved in this year's programme.
Judy MacDevitt, who co-ordinates the Students in Schools programme, said: "Three years ago we celebrated our 5,000th Students in Schools volunteer to complete the scheme - and we will soon reach our 6,000th, a testament to the aims and values of the programme.
"Feedback from students, teachers and school pupils is always overwhelmingly positive and this is a great example of how the University is supporting the local community and helping to raise the aspirations of schoolchildren. I'd like to thank our students for giving up their time and the local schools, and their pupils, for making our student volunteers feel so welcome."
Chloe Jenner, a first year Speech and Language Therapy student at the University of Reading, said of her time volunteering: "I had something to look forward to each week. It was a two-way relationship. I enjoyed spending time helping the children as much as they liked our time together."
Tony Nguyen, who is studying International Business and Finance, said: "As an international student who didn't have a chance to do GCSE or A-levels, I wanted to see how UK schools are run and the way of teaching. The smiles and welcome from the pupils and teachers are what motivated me to wake up early every Thursday to be at the school for a 9am class."
Annemarie Davies, Initial Teacher Training Co-Ordinator from The Bulmershe School, which this year hosted 48 volunteers, said: "We truly appreciate the 780 hours that the student volunteers have given up to work with our staff and students, and we hope that they have benefitted from the experience as much as our students have.
"The Students in Schools programme is an exceptionally valuable scheme and it would not work without dedicated volunteers who are willing to give up their time and expertise to support and inspire our students.
"It is so important for young people to have good, relatable role models to aspire towards and we thank all of our volunteers for providing our students with such good examples of altruism and generosity."