Storm Emma, Piers Taylor, mental health at University: Reading in the News - 2 March
02 March 2018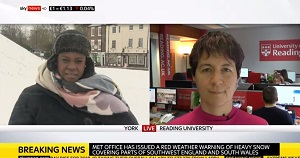 Snow: UoR Meterologists have commented on the continued winter weather. Professor Ellie Highwood spoke to Sky News, and Dr Laura Wilcox was interviewed on BBC World Service (approx. 6 mins in) and comments appear in the Financial Times (£) about the likelihood of cold winters. Meanwhile, GetReading has pictures of the snow from around Reading including the Whiteknights campus.
In other news, BBC Berkshire (appox. 2hr 56 mins in) visited the campus to talk to students who have created a new snow-based game 'Snodgeball' as part of a competition to win tickets to the Winter Olympics.
Mental Health: Sir David Bell is quoted in an article for Times Higher Education about university mental health day and how academic pressures on students and staff can "severely affect mental health". The article has been reproduced on College and University.
Piers Taylor: An article for the Sun on architect and broadcaster Piers Taylor notes his association with the University of Reading's School of Architecture.
Other coverage
The Business Magazine covered the opening of the Thames Valley Science Park.
An article on GDPR for Digital Marketing Magazine notes a conference sponsored by Henley Business School.
BBC Berkshire (approx. 1hr in) mentioned that Dr Hella Eckardt (Archaeology) has won Archaeologist of the Year for 2018, in the Current Archaeology awards. Read our news story here.
<!--[if !supportLists]-->