Italian elections and record-breaking weather - Reading in the news Mon 5 Mar
05 March 2018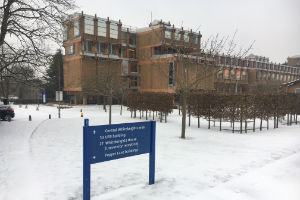 Here is today's media report.
Italian elections: Federico Faloppa (Modern Languages and European Studies) is quoted in coverage of the Italian elections by the Express and Cetus News.
Record-breaking weather: Reading Chronicle, Get Reading and The Breeze FM report data from the University of Reading's Atmospheric Observatory that shows Reading experience both the coldest March day on record and the sunniest ever February day last week. These articles were based on a Connecting Research blog written by Stephen Burt (Meteorology) on Friday.
The Wire borrows from a blog for The Conversation by Dr Peter Inness (Meteorology) on how warm Arctic temperatures contributed to the very cold temperatures in the UK last week.
A Conversation article by Emeritus Professor Keith Browning (Meteorology) from October 2017 is referenced in a blog on The Federalist about the intriguing names given to weather events, such as 'sting jet' or 'polar vortex'.
BBC South visited the University of Reading to find out about the game of 'Snodgeball' created by Reading Science Centre scientists in the snow, which won them a trip to the Winter Paralympics in Pyeongchang.
Science Park opening: The University of Reading's new Thames Valley Science Park opening is reported by BBC Radio Berkshire (1 hr 20 mins 30 secs), who interviewed director David Gilham and one of the companies moving into the park. Read our news story.
Civilisations Festival: Professor Mike Fulford (Archaeology) gave BBC Radio Berkshire (1 hr 24 mins 30) a tour of Roman Silchester throughout its Breakfast show as part of its celebration of the 50th anniversary of the Civilisation series. BBC Berkshire are interviewing various experts from the University throughout this week.
Rise of populism: Capital.gr reports on the 2018 Delphi Economic Forum, and in particular a debate on the threat populism poses to democracy and liberalism. Dr Daphne Halikiopoulou (Politics and International Realtions) was one of the speakers at this year's forum and is quoted on how populist parties have performed in recent decades.
Other coverage