University appoints contractor for new Health & Life Sciences building
08 March 2018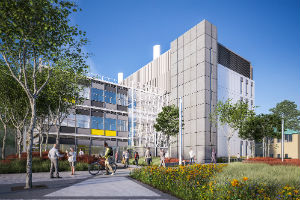 The University has appointed Balfour Beatty as the contractor for its ambitious new Health & Life Sciences building project.
Balfour Beatty will carry out the construction of the main building, with works planned to begin in late March.
With a total project cost of more than £55 million, the project will provide a purpose-built teaching and research facility for the School of Biological Sciences, which is currently housed in several buildings across Whiteknights campus. The project will consolidate the School into a new Life Sciences teaching zone, with the new building at its heart.
The new building will incorporate a configurable design that will enable labs to teach groups of up to 280, making it one of the largest teaching labs in the UK. It will span four storeys and provide more than 7,500m2 of lab and teaching space.
Key features will include two dedicated floors for wet and dry research laboratories, a bioresource unit (BRU) and a brand new café. It will also become the new home of the Cole Museum of Zoology.
In preparation for the main build, a programme of early works was carried out last year, including the demolition of the Engineering building - the site the new building will occupy.
Balfour Beatty and the University are now working together to finalise the construction programme, with the new building due to be completed in winter 2019.
Professor Robert Jackson, Head of the School of Biological Sciences, said: "This is a very exciting time for Biological Sciences at the University of Reading. The building will provide state-of-the-art facilities to support our world class research and the new teaching facilities will underpin an excellent learning experience for our students."
The Health & Life Sciences project forms part of the University's major capital investment programme 2026: TRANSFORM, which seeks to transform the University's facilities by its centenary year, 2026.