Is there a puma loose in Berkshire? - Reading in the news Mon 12 Mar
12 March 2018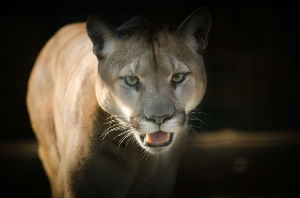 Here is today's media coverage round-up.
Joint enterprise sentencing: The Guardian quotes Dr Beatrice Krebs (School of Law) in an article on how a joint enterprise ruling led to 11 people being convicted after the murder of a teenager in Manchester in 2016.
Big cats: Get Reading interviewed Tara Pirie (Biological Sciences) after a Berkshire man reported seeing a puma in his garden. She explained the likelihood of big cats living in the wild in the county.
Early religious thinking: Professor Steve Mithen (Archaeology and Deputy Vice-Chancellor) discussed on BBC Radio Berkshire (1 hr 41 mins 45secs) whether Neanderthals believed in any kind of god.
Climate hope: PhD student Bennet Francis co-authors a piece for The London Economic on facing up to the realities of climate change.
Innovation Catalyst centre: The opening of a business incubation centre, run by Barclays, Henley Business School and the University of Reading-owned Thames Valley Science Park, is reported by Business Mag.
Women in science: Professor Ellie Highwood (Meteorology and Dean for Diversity and Inclusion) was interviewed by Professor Liz Bentley, chief executive of the Royal Meteorology Society, who was guest editing Monday's Breakfast show on BBC Radio Berkshire (11 mins 20 secs). Professor Jane Setter (English) will be guest editor on Tuesday morning.
Other coverage
Areej Al-Jahani, a doctoral candidate at Reading, wrote an article about 'Saudiization' for the Saudi Gazette, in which she argues that recent social progress in Saudi Arabia, namely increasing rights for women, is an example that should be followed by other Middle Eastern and developing countries.
A group of Norwegian students at Henley Business School feature in an e24.no article on the Aksje-NM business competition.
Fruitnet.com mentions that Reading was the top performing UK university for academic reputation in Agriculture and Forestry in the latest QS World Rankings by Subject. Read our news story.
Enviro News Nigeria, Xinhuanet and 4-Traders website quotes Professor Chuks Okereke (Geography and Environmental Sciences) in an article on scientists calling on Africa to develop laws to develop green economies.
4-Traders also quotes Professor Pier Luigi Vidale (Meteorology) in an article on a supercomputer upgrade that will advance environmental science research.
Dr Vincenzo Costanzo (Built Environment) is quoted in an axelgrael blog post on reducing heat pollution in urban areas.
US website Beforeitsnews.com quotes Russian historian and former University of Reading Politics lecturer Professor Tibor Szamuely in a feature on Marxist Russia and a recent growth in popularity of socialist politics.
Building.co.uk reports that Balfour Beatty has been selected as contractor to deliver the University's new Health and Life Sciences Building on Whiteknights campus. Read our news story.
Previews of the Ben Pedley Memorial Concert continued on BBC Radio Berkshire (1 hr 4 mins 8 secs) into Saturday morning. The concert was held that evening.
BBC Weatherman and Reading graduate Simon King explained to BBC Radio Berkshire what the weather has in store for the UK, after talk of another cold snap.
The silver prize scooped by a team of Reading students in the 2017 Ecotrophelia European finals, after their healthy sushi won the UK competition, is mentioned in a British Frozen Food Federation article previewing this year's competition. Read our news story.