Innovation Catalyst launches at Thames Valley Science Park
08 March 2018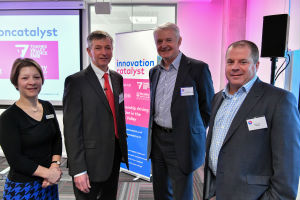 Innovation Catalyst - a new partnership aiming to boost Reading's tech ecosystem
Venture backed by Barclays Eagle Labs, VitalSix, Henley Business School and Thames Valley Science Park
Innovation Catalyst: a collaboration between Barclays Eagle Labs, VitalSix, Henley Business School and The University of Reading owned Thames Valley Science Park [TSVP] has today formally launched. The incubation and work space at TSVP's Shinfield site in Reading is an integral part of a comprehensive offer to innovators to encourage collaboration and foster innovation among the entrepreneurial business community.
Together, the venture aims to boost the Thames Valley tech sector, helping entrepreneurs start-up and scale up and to take advantage of its location in one of Europe's largest tech clusters.
The new Innovation Catalyst provides a 65-seat work space, and will also be home to the Barclays Eagle Lab Flight accelerator programme for up to 12 individuals, designed to shape and scale the next generation of Reading and Thames Valley tech businesses.
The Barclays Eagle Lab Flight 16-week accelerator programme delivered by VitalSix, will offer tech high growth small businesses intensive support and will focus on creative thinking, participation and cross collaborative working, as well as access to expert mentoring and introductions to major firms and a programme of events. By the end of the programme the participants will aim to have a clearly defined, innovative and marketable service or proposition, with the potential to scale-up to help give the region's tech community a crucial boost.
David Gillham, Executive Director of Thames Valley Science Park who spoke at the launch event said: "The Thames Valley is renowned internationally as a centre for innovation and knowledge-based companies. As a partner in Innovation Catalyst, Thames Valley Science Park shares the vision to create a much needed anchor for innovation; it is the physical centre of a virtual community to bring closer together businesses, the University of Reading, investors, expertise and more. At Thames Valley Science Park we take a supportive, flexible approach - specialist facilities and the dynamic mix of companies already here make this an exciting place for ambitious companies to grow."
Gary Chugg, Barclays Head of SME, Thames Valley said: "Tech is an area where the UK has every reason to become a world leader. The Thames Valley is home to some of the leading tech firms in the world and we want to help build on the success of this sector, and play a leading role in transforming innovative firms in the future."
Barclays has a network of Eagle Labs across the UK and Reading is the 15th to be launched, following success working with similar partnerships at locations including Brighton, Cardiff and Edinburgh.
Susan Elliott, Managing Director of VitalSix Ltd said: "VitalSix is delighted to be part of the exciting Innovation Catalyst partnership to drive innovation in the Thames Valley. Combining great business ideas with the right expertise, funding and talent enables scale up businesses to go further, faster. The addition of a dynamic new work space at Thames Valley Science Park allows entrepreneurs and early stage businesses to learn, develop and network together and with the wider community of mid-sized companies, corporate, and research organisations."
Innovation Catalyst is supported by a dedicated Eco-System Manager and the local Barclays teams, to provide help and advice to local companies and entrepreneurs from across Thames Valley.
Those wishing to take part in the Barclays Eagle Lab Flight accelerator programme and find out more should visit https://labs.uk.barclays/flight-reading and contact the VitalSix team at hello@vitalsix.co.uk