Nerve agents and laughing Alexa - Reading in the News Tue 13 Mar
13 March 2018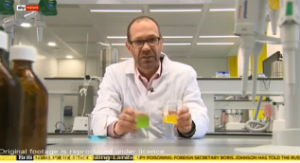 Here is today's media coverage round-up.
Russian spy case: The nerve agent used in the attack on former Russian spy Sergei Skripal has been confirmed as Soviet Union-developed Novichok. Professor Gary Stephens (Pharmacology) was interviewed by Sky News on Monday evening, who visited the Hopkins building to record a report and a live piece outside. Comments by Professor Stephens were also used by the BBC News Online in an explainer article about Novichok, and picked up by Reuters, leading to dozens of reports by global news outlets, including Daily Mail, Telegraph, Financial Times, iNews, France24, Washington Post, CNN.com, Metro, Breitbart, Yahoo, MSN, Nasdaq, NBC News, Moscow Times, Egypt Independent, Daily Star Lebanon, Inquirer.net in the Philippines, ABC News in Australia, Japan Times, Economic Times and First Post in India and the India Today.
Laughing Alexa: Reuters interviewed Dr Etienne Roesch (Psychology) about users of smart home device Amazon Echo reporting it laughing without being prompted. The clip is picked up by MSN, Yahoo, Sydney Morning Herald, Malay Mail Online, WA Today and others.
Science research: Eugene Mohareb (Built Environment) (approx 1 hr 24 mins) and Ioannis Zoulias (Cybernetics) (approx 1 hr 20 mins) spoke to BBC Radio Berkshire about research into sustainable food production and combining technology with the human mind, respectively, for British Science Week.
Guest editor: Professor Jane Setter (English) was guest editor on BBC Radio Berkshire's Breakfast show (9 mins 20 secs) on Tuesday morning. She spoke throughout the show about her research into the voice and identity, including why singers put on American accents (approx. 40mins) and how UK regional accents are particularly hard to understand, meaning they can hold certain people back in life (approx. 2 hrs 6 mins).
Other coverage
A University of Reading study into rat resistance to poisons is referred to in an article on Wokingham rat problems by Get Reading.
A feature on the most effective phrases to use to tell children to be careful appears in ScaryMommy.com, referencing Reading's involvement in research that showed the benefits of allowing children to take risks and have adventures.
Albawaba News run a Q&A with Reading PhD candidate Nadia Al-Sakkaf, who is researching gender politics in Yemen, on the news of the Crown Prince of Saudi Arabia visiting the UK to discuss the humanitarian situation in Yemen.
A peaceful protest being carried out by students in solidarity with striking UCU members was reported by BBC Radio Berkshire (2 hrs 1 mins 30 secs) in its bulletins.