How does Novichok work? - Reading in the news Wed 14 Mar
14 March 2018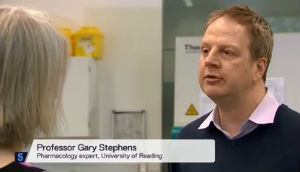 Here is the latest media coverage of the University of Reading.
Russian nerve agent: Coverage of the use of a nerve agent on former Russian spy Sergei Skripal and his daughter in Salisbury continues, with BBC South (3 mins 50 secs) and Channel 5 News interviewing Professor Gary Stephens (Pharmacology). Articles quoting Professor Stephens appearing worldwide, including in Business Insider, Irish Times and Cetus News in the US. BBC Radio Solent (40 mins) and BBC Radio Wiltshire (1 hr 16 mins) used clips of a BBC South interview with Professor Stephens on their afternoon shows.
State capture in South Africa: Jon Foster-Pedley (Dean and Director of Henley Business School South Africa) writes an opinion piece for the Johannesburg Star (jpg attached) on state capture in South Africa by former president Jacob Zuma and the need for transparency.
Other coverage
Reading Chronicle and The Spark online reports on the sit-in protest taking place at the University by members of the Reading Marxist Society in support of striking UCU members. BBC Radio Berkshire interviewed a Reading student about the ongoing UCU strikes.
Wired.com quotes Professor Ted Shepherd (Meteorology) on the link between a changing climate and extreme weather.