Revolutionary book on Russian socialism wins prestigious award
14 March 2018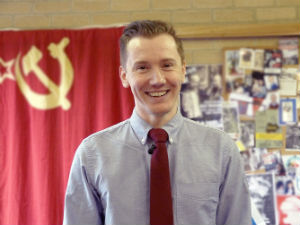 Newly uncovered materials charting the rise and fall of socialism in 20th century Russia have helped a University of Reading historian bag a prestigious prize for his new book.
Dr Andy Willimott was named the winner of the Alexander Nove Prize for his book, Living the Revolution: Urban Communes and Soviet Socialism, 1917-1932. The book is the first definitive account of socialists in the early Soviet Union who formed small communities within cities prior to the revolutions of 1917.
The award is made annually by BASEES (British Association for Slavonic and East European Studies). Nominations for books published in 2016 were accepted for this year's scheme.
Dr Willimott said: "I am honoured to be given the Alexander Nove Prize. While we are now more than a century on from the Russian Revolution, there is still much to learn about that period.
"Given current international events, and the rapidly changing relationships between West and Russia, a greater understanding of Russia and its remarkable history is more important than ever."
Watch Dr Willimott introduce his book >>>
Published by Oxford University Press, Living the Revolution counters the traditional view of Soviet citizens as insignificant to the Russian revolution. It contains insights into the lives of activists and recounts the Soviet state's early development.
The socialist movement in Russian culminated in the major uprisings of 1917 that deposed the Tsarist regime and led to the rise of the Soviet Union.
In its citation, the jury who made the decision on this year's award said: "In Living the Revolution, Andy Willimott takes an almost entirely unknown topic and makes it his own, turning what could have been a traditional 'thesis book' into something of real lasting value. This fine, energetic piece of scholarship offers a genuinely new perspective on the revolutionary developments of the 1920s by making a compelling case for the importance of the much neglected urban commune movement.
"It strikes a convincing balance between stressing the agency of the commune activists – aptly characterized as 'those who tried to be the change they wanted to see in the world' - and the increasing control imposed by the party-state. Willimott's impressive command of his sources enables him to expand the scope of his conclusions beyond his field of specialism and to make a major contribution to revitalising the study of early Soviet Russia. He is a worthy winner of this year's Nove Prize."
Dr Willimott, who received a research output prize from the University of Reading in 2017, will receive the prize at BASEES' 2018 Annual conference, due to be held between 13-15 April at Fitzwilliam College in Cambridge.