Trump 'increasing global trade tensions' - Reading in the news Fri 16 Mar
16 March 2018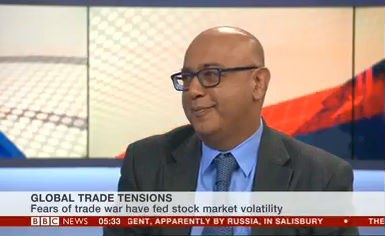 Here is Friday's media round-up.
Trump deficit demand: BBC News' The Briefing show on BBC One (3 mins) interviewed Professor Rajneesh Narula (Henley Business School), who argued Donald Trump was increasing global tension in trying to apply his business experience to international trade deals, after the US President called on China to reduce its trade deficit with the US by $100bn.
Academic job sharing: Times Higher Education interviews the University of Reading's new joint Pro-Vice-Chancellor for Research and Innovation, Professor Parveen Yaqoob and Professor Dominik Zaum, about the advantages of taking on an executive role as a job share.
Student advice: Prospects website runs an advice piece by Jennifer Corless (Student Engagement Manager) on what students starting university this autumn should pack.
Alzheimer's and diabetes: Professor Carol Wagstaff (Food and Nutritional Sciences) spoke to BBC Radio Berkshire (1 hr 21 mins 10 secs) about research exploring the link between type 2 diabetes and Alzheimer's disease. This rounded off a week of interviews by Reading academics for British Science Week.
Other coverage